Platinum Naturals Vigor-Max

Vigor-Max contains all natural ingredients and is designed to fuel physical performance and stimulate blood flow.
Recommended Use: Use in herbal medicine to help support peripheral circulation. Used in herbal medicine to help support cognitive function and/or reduce mental fatigue and help to enhance physical capacity/ performance.
Recommended Adult Dosage: Take one (1) capsule daily.
Duration of Use: When used consecutively, do not exceed three (3 ) weeks.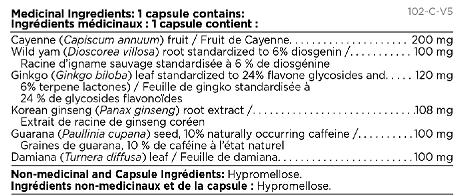 Caution: Consult a health care practitioner if you have a medical condition or take medication. Do not use if you are pregnant, breastfeeding, are taking health products that affect blood coagulation or have hormone sensitive conditions. Contains Korean Ginseng: Some people may experience insomnia, anxiety, or headaches, in which case, discontinue use.