Poise
Poise Liners Very Light Absorbency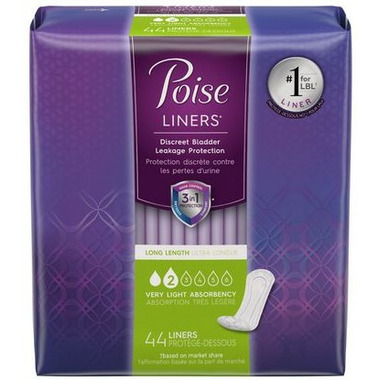 Poise
Poise Liners Very Light Absorbency
Long Length
44 Count
Poise Liners Very Light Absorbency
is rated out of
5
by
4563
.
---
Description
Discreet protection to help keep you clean and fresh. Sometimes light bladder leakage doesn't let you feel as fresh and clean as you'd like.
Poise Liners are specifically designed for light bladder leakage to provide outstanding protection. An Absorb-Loc core quickly locks away wetness and odour to help keep you fresh and dry all day long.

Features:
Absorb-Loc core quickly locks away wetness and odour
Thin-Flex design moves with your body
Dry-Touchlayer for your comfort
Packaging may vary from image shown
Shipping & Returns
Rated

2

out of

5
by
silverhairedlady
from
Frustration!
I have been frustrated with the changes in Poise liners, so I decided to search online for comments from other users. In reviewing your website, I see that of the last 60 or so comments (over the last 6-8 months), about 2/3 of them are negative! (And, it may be that the few positive comments are from new users who never had a chance to experience the former version.) I hope you are taking this to heart. The women who loved Poise liners are speaking out at the change, and, I am guessing that most of them will try other brands in hopes of finding a suitable replacement. I would have previously recommended this product, but now I cannot.
Date published: 2018-10-25
Rated

3

out of

5
by
joy
from
Bring back the older product
I like the liner pads you had in the pink pacakge. First, having the pink made it easier to distinguish between the ultra thins. The pictures on the package are not very clear between the liners and the ultra thin,s and both say light absorbency. Most of all I know you changed the product because I kept some of the old product, and they are different. The newer ones come apart more often, and it has less coverage than the older style. Either you made it thinner or slimmer, I'm not sure which. I am trying other brands but would prefer to stay with Poise if you went back to your better, earlier liner style.
Date published: 2012-08-29
Rated

1

out of

5
by
Anonymous
from
I've been a customer over 10 yrs.
I am so disappointed in the current liner product. I have used Poise liners for over 10 yrs. All of a sudden, I can't find the Long version in more than one store I've looked for them. And the adhesive on the backing of the liner sticks to my underwear. I can't peal it off, it won't come off in the washer. I've ruined 3 prs. of underwear. My first opportunity to find another product brand, I will. I see alot of other ladies are dissatisfied as well. I hope Poise pays attention. Why mess with what works??!! I took a trip over the weekend and found some of the older version in my makeup kit. They work just fine!! They last all day and don't bunch up because they are the long version and fit well.
Date published: 2013-01-30
Rated

1

out of

5
by
Diane
from
Really disappointed in the "redesigned" liners
I am so disappointed. I need only very light absorbancy (mainly "just in case"# and I used to really like these liners, but the redesign has made them so uncomfortable, I'm giving up. They are too bulky for an everyday liner, the sides of the liner are rough and a bit too wide for all my panties so they rub uncomfortably against my skin #I'm always feeling like I need to adjust#. And the stiff materials make a crackling sound. Yuck! I agree with another reviewer -- men must be designing these. Also, the individual packaging is unncessary and wasteful #and difficult to open#. I hope you will listen to your reviewers and make changes for the better. Until then, I'm going back to my old everyday liners.
Date published: 2012-12-18
Rated

2

out of

5
by
cemom
from
why the change?
I have used Poise liners for some time and really liked them. Now I find it very hard to find them in regular length - I do not like or need the long length. The adhesive has been changed, when I remove the liner from my panties, especially if I am hot, the adhesive stays on them. This is annoying and very hard to wash out. I have not yet seen the scented version , but if that is all that is available I will not use them anymore. I am very sensitive to scents and do not buy any products that are scented. I would give the older version a 5 star rating but do not feel the "improved" version is more than fair.
Date published: 2013-09-21
Rated

5

out of

5
by
Gagirl1961
from
Love at first sneeze
[This review was collected as part of a promotion.] I worried about Coughing, laughing and sneezing. Not a fun feeling but no more. I am comfortable with them on . I forget they are there. For get about pads for periods never did care for them they are bulky and a pain to carry in a purse. Poise the liners slip in so easy I have a little bag from Poise to carry them in so easy to carry no one knows I have them or wear the liners or underwear. Before I had my hysterectomy I bought the underwear and pads for periods the heavy type due to bleeding all month life savers. I am still buying their items underwear and liners. thanks to them I am worry free!!
Date published: 2017-03-28
Rated

1

out of

5
by
judes113
from
New Poise is terrible
I have been a poise user for many, many years and am very disappointed in your new style in the purple wrap. They bunch up, curl up and almost cut the sides of my crotch. Its a good thing that there is now some competition. I have purchsesd Tena and they are fantastic. Almost as good as yours used to be. I have no idea why you changed them, changing packaging is one thing but product quality is something else. I was really glad to see that I am not the only one who is not happy with them. Signed your Future Tena user unless you go back to the ones that work.
Date published: 2013-03-05
Rated

1

out of

5
by
Nanadi
from
Terrible changes to a wonderful pad
Unfortunately, I also had a terrible allergic reaction from these new pads with purple decoration. What have they done to them? I have worn Poise pads for 8 years. I tried a second time with these and ended up on oral steroids. Redness, hives, itching and swelling. I purchased 3 44 liner bags and cannot use them. I would love to know what was added so I know what I am allergic to. I will never purchase these again. I guess I should mention that they bunch up terribly and do not fit a woman's contours like the old ones did. Do not purchase these.
Date published: 2013-04-17