PowerBar Performance Energy Bar Chocolate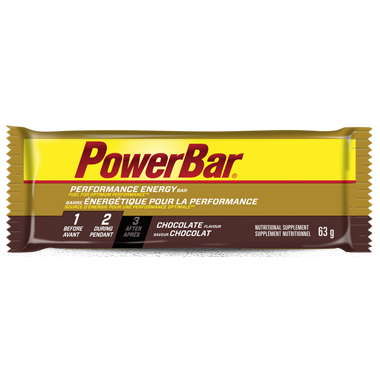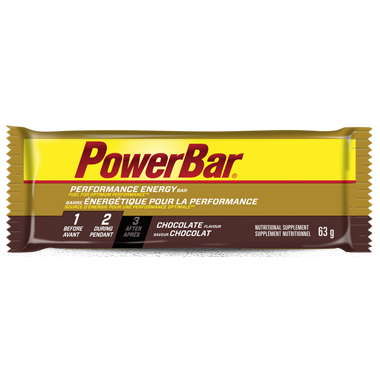 PowerBar Performance Energy Bar Chocolate
- Sold in multiples of: 12
- We're sorry, this product is no longer available!
- Shop for other products in: Protein Bars & Snacks

When you're a serious athlete competing at the highest levels of exercise intensity and duration, fueling up right can make a huge impact on how you feel and perform. PowerBar® Performance Energy Bars are formulated with PowerBar® C2MAX dual source energy blend, a 2:1 glucose to fructose blend found to deliver 20–50% more energy to muscles than glucose alone. That means going longer, pushing harder, and performing better.

Eat 1 bar 30–60 minutes before exercise. For events lasting over 1 hour, eat 1–2 bars per hour during your exercise. It's time to take your performance levels to new heights.

Nutrition Facts:
per 63 g serving (1bar) / par portion de 63 g (1 barre)
Amount/Serving
Energy / Énergie 200 Cal / 838 kJ
Protein / Protéines 9g
Fat / Matières grasses 2.2g
Linoleic acid / acide linoléique 0.5g
Linolenic acid / acide linolénique 0.05g
Saturates / saturés 0.7g
Carbohydrates / Glucides 43g
Dietary fibre / fibres alimentaires 3.5g
Sodium 200mg
Potassium 291mg
Vitamin A / Vitamine A 202 RE/ER
Vitamin D / Vitamine D 0.0006mg
Vitamin E / Vitamine E 2.2mg
Vitamin C / Vitamine C 13.9mg
Thiamine 0.3mg
Riboflavin / Riboflavine 0.4mg
Niacin / Niacine 6.9 NE/EN
Vitamin B6 / Vitamine B6 0.4mg
Folacin / Folacine 0.07mg
Vitamin B12 / Vitamine B12 0.0002mg
Pantothenate / Pantothénate 1.4mg
Biotin / Biotine 0.03mg
Calcium 227mg
Phosphorus / Phosphore 227mg
Magnesium / Magnésium 55mg
Iron / Fer 2.2mg
Zinc 3.2mg
Iodide / Iodure 0.032mg
Copper / Cuivre 0.4mg
Manganese / Manganèse 1.2mg
Selenium / Sélénium 0.006mg
Chromium / Chrome 0.01mg
Molybdenum / Molybdène 0.006mg

Ingredients: C2MAX CARBOHYDRATE BLEND (EVAPORATED CANE JUICE SYRUP, MALTODEXTRIN, FRUCTOSE, DEXTROSE), OAT BRAN, SOY PROTEIN ISOLATE, ALKALIZED COCOA, BROWN RICE FLOUR, HIGH OLEIC CANOLA OIL, VEGETABLE GLYCERIN, SALT, UNSWEETENED CHOCOLATE, FLAVOUR, PEANUT FLOUR, ALMOND BUTTER, SKIM MILK POWDER, VITAMINS AND MINERALS: calcium carbonate, Dipotassium Phosphate, calcium Phosphate, Ascorbic Acid (Vit. C), NIACIN, ZINC Gluconate, DL Alpha- TocopherYl Acetate (Vit. E), Calcium Pantothenate, Beta Carotene (Vit. A), Ferrous Fumarate (Iron), Pyridoxine Hydrochloride (Vit. B6), Riboflavin (Vit. B2), MANGANESE Sulphate, THIAMINE Hydrochloride (Vit. B1), Vitamin A Palmitate, Folic Acid, Copper Gluconate, Biotin, Potassium Iodide, Cholecalciferol (Vit. D). MAY CONTAIN WHEAT.