Prairie Naturals Electrolyte Fuel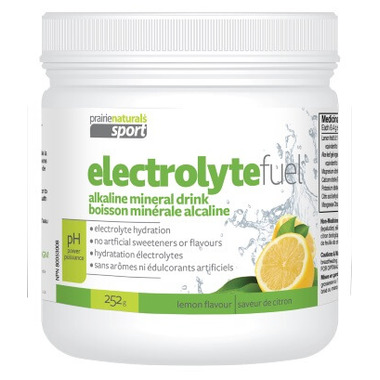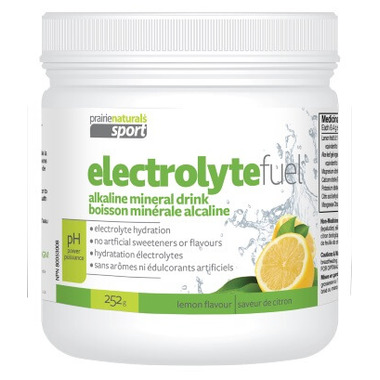 Prairie Naturals Electrolyte Fuel
Prairie Naturals Electrolyte Fuel is an alkaline mineral drink.
Features:
Electrolyte hydration

No artificial sweeteners or flavours

No sugar, juice of half an organic lemon.

Directions: Mix one rounded scoop (8.4g) in 375-500ml of water, or to taste and take daily (on an empty stomach/early morning is best) or as directed by a health care practitioner.
Ingredients: Lemon fruit 5.5:1 extract (citrus limon) 30% citric acid/Citron (citrus limon), extrait 5,5 :1, 30 % dacide citriqueҠ ֠3,034 mg, equivalent to 16,687 mg of Lemon fruit juice powder/)quivalant 16 687 mg de jus de citron en poudre, Aloe leaf gel organic (Aloe barbadensis) 200:1 extract/Gel de feuille daloҨs biologique (Aloe barbadensis), extrait 200 :1 150 mg, equivalent to 30,000 mg of Aloe leaf gel powder/֩quivalant 30 000 mg de gel en poudre de feuille daloҨs, Magnesium citrate (120 mg elemental magnesium)/Citrate de magnsium (120 mg de magnsium 驩lmentaire) 750 mg, Calcium citrate (90 mg elemental calcium)/Citrate de calcium (90 mg de calcium 閩lmentaire) 429 mg, Potassium citrate (100 mg elemental potassium)/Citrate de potassium (100 mg de potassium 閩lmentaire) 278 mg, Citric acid anhydrous/Acide citrique anhydre 閖 54.4 mg, Manganese Citrate (0.4mg elemental manganese)/Citrate de manganse (0,4 mg de manganse 訩lmentaire) 1.4 mg, Organic lemon flavour, natural maple flavour, celtic sea salt (lepaludier), silicon dioxide, stevia rebaudiana leaf extract.
Caution: Consult a healthcare practitioner prior to use if you are pregnant or breastfeeding. Sealed for your protection. If inside seal is broken or missing, do not use. For optimal freshness refrigerate after opening.