Prairie Naturals Organic & Fermented Wheat Grass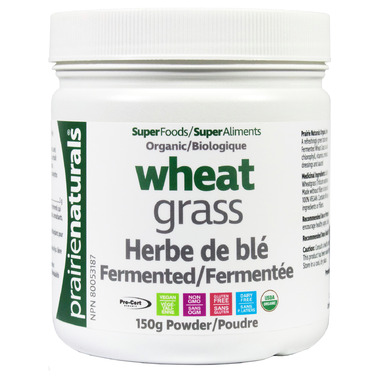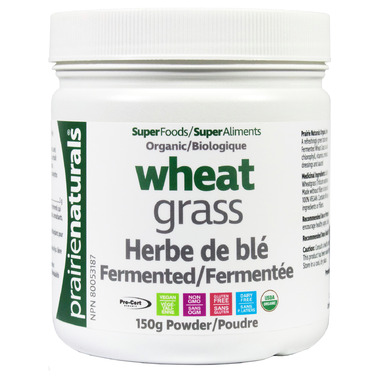 Prairie Naturals Organic & Fermented Wheat Grass
Fermented and enlivened with health-promoting probiotics, Prairie Naturals organic, fermented Wheat Grass is more easily digested than other wheat grass.
Harvested as young leafy greens, wheat grass is a concentrated green superfood with alkaline-balancing, energizing, cleansing, mineralizing, anti-inflammatory and anti-aging properties.
A pure and simple fermented green-food powder for the whole family. 100 % VEGAN. Gluten-free! Contains NO flavours, colours, preservatives, sweeteners, GMO ingredients, fillers.
Features:
Organic Green SuperFood!
Fermented with probiotics
Rich source of Chlorophyll, vitamins & minerals
Alkalizes & balances pH
Contains juice & fibre
Supports digestive health & bowel regularity
Promotes healthy immunity
Refreshingly green taste
Ideal for adding to smoothies
No fillers, binders, excipients or carriers
No artificial flavours, colours, preservatives, sweeteners or hidden sugars
100% VEGAN
Non-GMO
Gluten-Free
Ingredients: Wheat Grass (triticum aestivum, leaf, fermented and organic)
vegan, organic, gluten free, sugar free, dairy free