Prairie Naturals Organic Red Super Food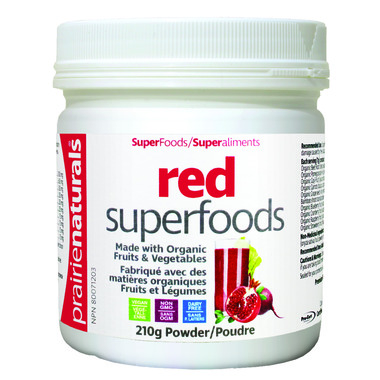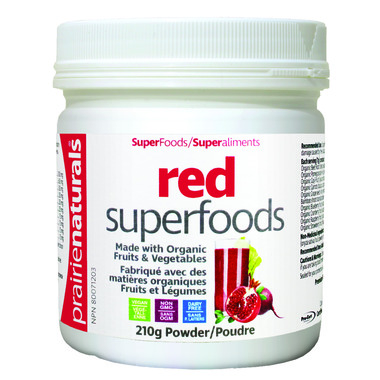 Prairie Naturals Organic Red Super Food
Red is the New Green! Taste the power of Canada's most potent blend of organic red superfood fruits and vegetables. A convenient, ready-to-use superfood powder concentrate made with: Beet Roots, Pomegranates, Goji Berries, Grapeseed, Carrots, Blueberries, Strawberries, Raspberries & Cranberries. Natural food-source antioxidants protect, heal, energize and restore. Gluten-free. Certified organic. Non-GMO. Vegan.
Benefits:
Natural food-source antioxidants
Wide range of phytonutrients
Energizing & restorative
Nourishing & healing
Synergistic effect
Directions:
mix one scoop (7 grams) into liquid of choice or in a smoothie...take once daily.
Ingredients:
all organic- beet root pawder,2000mg, pomegranate fruit 600mg, golji fruit 500mg,carrots 250mg,grape seed 250mg,bamboo shoot extract 235mg,blueberry fruit 75mg,cranberry fruit 75mg,raspberry fruit 75mg, strawberry fruit 75mg...non medical-organic inulin, organic berry and cherry flavour, organic brown rice hull powder, organic stevia