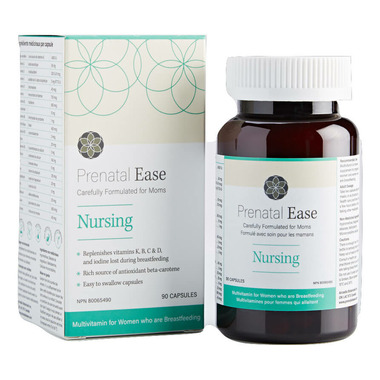 Description
Replenish your body's vitamin and mineral stores after childbirth with Prenatal Ease Nursing, a comprehensive multivitamin that's specially formulated for postnatal moms.

Breastfeeding can be nutritionally demanding on your body. A typical mother will need to consume an extra 500 calories each day to meet their change in energy requirements. Many of your body's most important vitamins and minerals will need to be topped up, as they are depleted by your nursing baby.

Each serving of Prenatal Ease Nursing provides you with all those essential nutrients that are lost during breastfeeding, including Iron, Zinc, Calcium, and Iodine, and vitamins B, C, D, and E. It is a rich source of beta-carotene, which safely creates Vitamin A in the body as it's needed—an essential component for the proper development of the baby's eyes, heart, ears, limbs, bones, skin, and immune system. It also provides 45 mcg of Vitamin K, a crucial factor in ensuring that blood clots properly.

This synergetic multivitamin is the perfect tool to help you maintain your vitality and keep you feeling nourished after baby's birth.

Directions: Take one capsule twice a day with meals, or as directed by a healthcare practitioner. Take a few hours before or after taking other medications. Store at room temperature.

Caution: Consult your healthcare practitioner prior to use if you are taking medication or have a medical condition. Keep out of reach of children. There is enough iron in this bottle to harm a child.



Highlights

Features
Contains 21 essential vitamins and minerals
Gluten-free and lactose-free
Cruelty-free (not tested on animals)
No artificial colours or flavours
Easy-to-swallow vegetarian capsules
Twice daily dosing
90 capsules per bottle (1.5-month supply)
Manufactured in Canada
Ingredients
Amount Per Capsule: VITAMINS: Vitamin A (beta-carotene) 4300 IU ? Vitamin C (ascorbic acid) 60 mg ? Vitamin D3 (cholecalciferol) 200 IU ? Vitamin E (dl-alpha tocopheryl acetate) 7.5 IU ? Vitamin K1 45 mcg ? Thiamine (thiamine mononitrate) 700 mcg ? Vitamin B2 (riboflavin) 800 mcg ? Niacinamide 10 mg ? Vitamin B6 (pyridoxine hydrochloride) 1 mg ? Folic Acid (l-5 methyltetrahydrofolate) 400 mcg ? Vitamin B12 (cyanocobalamin) 3 mcg ? Biotin 20 mcg ? Vitamin B5 (calcium-d-pantothenate) 10 mg MINERALS: Calcium (calcium carbonate) 140 mcg ? Iron (ferrous fumarate) 5 mg ? Iodine (potassium iodide) 125 mcg ? Magnesium (magnesium oxide) 25 mg ? Zinc (zinc oxide) 6 mg ? Selenium (selenomethionine) 25 mcg ? Copper (copper gluconate) 600 mcg ? Chromium (chromic chloride) 45 mcg OTHER INGREDIENTS: Hypromellose ? Magnesium stearate ? Maltodextrin ? Microcrystalline cellulose
Shipping & Returns