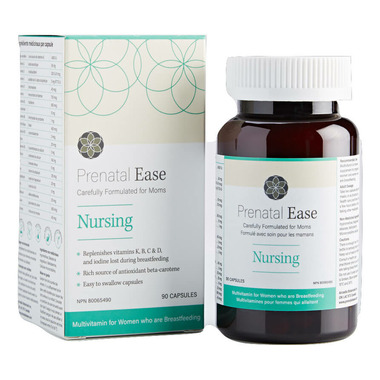 Postnatal
90 Capsules
Prenatal Ease Nursing
is rated out of
5
by
9
.
---
Description
Replenish key nutrients lost while breastfeeding!
Prenatal Ease Nursing is a comprehensive multivitamin specially formulated for new moms who are breastfeeding. This scientifically based formula contains 21 important vitamins and minerals essential for nursing your growing baby. It will help replenish your body's store of vitamins B, C, D, E & K, and iodine lost during nursing. It is a rich source of plant based vitamin A, beta-carotene.
Breastfeeding can be nutritionally demanding on your body. A typical mother will need to consume an extra 500 calories to meet the body's energy requirements. Your vitamin and mineral requirements will also change during this time. Many minerals like iron, zinc, and calcium need to be replenished as they are consumed by your baby for their growing body.
Prenatal Ease Nursing will provide you all the essential minerals and vitamins that are lost during breastfeeding. Vitamin A is essential for the proper development of the baby's eyes, heart, ears, limbs, bones, skin, and immune system. Unfortunately, newborns have very low levels of vitamin A and get all of it from breast milk. Prenatal Ease Nursing is a rich source of beta-carotene, a source of vitamin A. When babies are just born, they are deficient in vitamin K. Vitamin K is essential in making sure blood clots properly. Taking Prenatal Ease Nursing will help ensure you and your baby will get the necessary vitamin K.
Directions:
Take two capsules daily with meals, or as directed by a health practitioner. Take a few hours before or after taking other medications. This multivitamin can be taken while you are pregnant, but is optimized for women who are nursing.
Do not use if under cap seal is broken. Store at room temperature. As with any dietary or herbal supplement, you should consult your healthcare practitioner prior to using this product if you are taking medication or have a medical condition. Keep out of reach of children. There is enough iron in this bottle to seriously harm a child.
Highlights

Features
Gluten free, lactose free, no artificial colours, no artificial flavours, not tested on animals, vegetarian
Comprehensive multivitamin formulated for postnatal and breastfeeding moms
Replenishes vitamins and mineral stores lost during breastfeeding
100% of vitamin A as beta-carotene, a powerful and safe antioxidant
Each serving provides 250 mcg of iodine, as recommended by major associations like World Health Organization, and United Nations Children's Fund (UNICEF)
Rich source of Vitamin K, an essential vitamin in proper blood clot formation
Easy to swallow vegetarian capsule
Available in 90 capsule bottles (1.5 month supply)
Ingredients
Serving Size: Two (2) capsules ?Amount per Serving ?Vitamin A 100% as beta-carotene 8600 IU ?Vitamin C as ascorbic acid 120 mg ?Vitamin D3 as cholecalciferol 400 IU ?Vitamin E as dl-alpha tocopheryl acetate 15 IU ?Vitamin K1 90 mcg ?Thiamine as thiamine mononitrate 1400 mcg ?Vitamin B2 as riboflavin 1.6 mg ?Niacinamide 20 mg ?Vitamin B6 as pyridoxine hydrochloride 2 mg ?Folic Acid as folate 800 mcg ?Vitamin B12 as cyanocobalamin 6 mcg ?Biotin 40 mcg ?Vitamin B5 as calcium-d pantothenate 10 mg ?Calcium as calcium carbonate 280 mg ?Iron as ferrous fumarate 10 mg ?Iodine as potassium iodide 250 mcg ?Magnesium as magnesium oxide 50 mg ?Zinc as zinc oxide 12 mg ?Selenium as selenomethionine 50 mcg ?Copper as copper gluconate 1200 mcg ?Chromium as chromic chloride 90mcg ?Other Ingredients: ?Hypromellose ?Magnesium stearate ?Maltodextrin ?Microcrystalline cellulose
Shipping & Returns
Rated

5

out of

5
by
Ellamazing
from
Love prenatal ease!
I've been using Prenatal Ease for my entire journey (pre-conception to nursing) and it's been great! They are easy on the stomach and have everything I need in them, and now I have a healthy baby girl who is successfully breastfeeding! Highly recommend
Date published: 2021-06-08
Rated

5

out of

5
by
SusanB
from
Important for Nursing!
I searched high and low for a product in Canada that met the needs of nursing moms that was not a prenatal vitamin and found it in this. I find the smell a bit strong but the capsules are easy to swallow and on the stomach.
Date published: 2020-11-04
Rated

5

out of

5
by
April
from
Great Nursing Support
I love these vitamins! Love to have a specific for nursing vitamin and as other vitamins from this brand very impressed! Great to know that baby is getting what he needs and helps to support mom as well.
Date published: 2021-03-26
Rated

5

out of

5
by
Jamila
from
This is crucial while nursing, was SO happy when I came across a natural product that goes with my lifestyle and most of all love that it's easy on the body.
Date published: 2020-01-02
Rated

5

out of

5
by
Apopa
from
Great product
Easy to take, and that it helps while breastfeeding. Wish I found these with my first Love that it's a Canadian company, too!
Date published: 2021-01-18
Rated

5

out of

5
by
Broome
from
Great!
I took the Prental Ease line of vitamins from pre-pregnancy, throughout pregnancy and for nursing. I like that each stage has a different formula based on the needs of that time. I wish I only had to take 1 a day instead of 2 because I'm terrible at remembering the second one. I don't notice my urine changing colour with these so I feel good knowing I'm not just peeing out all the vitamins! Never upset my stomach.
Date published: 2022-01-06
Rated

5

out of

5
by
June
from
Best for nursing mom
exclusively breastfeeding mom of almost 9 months-Not sure if it also affects supply but I notice the difference when I forget to take these. the tablets are not small but they go down easily and doesn't have an aftertaste nor does it make me nauseas. already on my 3?4? bottle and will continue to take until I am done nursing.
Date published: 2022-05-04
Rated

5

out of

5
by
Nadia
from
I love that it's specifically for nursing
I really like this product: I was searching for a more natural vitamin that was specifically for nursing and was pleased to find this! I have been using it for 10 months now. It is easy on the stomach, though I do find I need to eat something with it. Highly recommended!
Date published: 2021-09-29