Prenatal Ease Omega 3 DHA
Before, During and After Pregnancy
90 Capsules | 150 g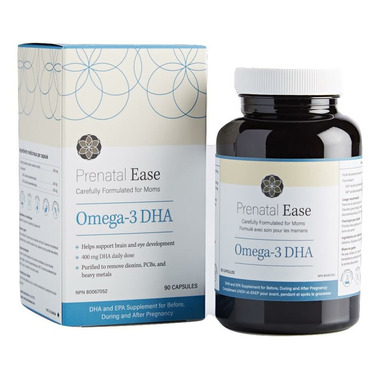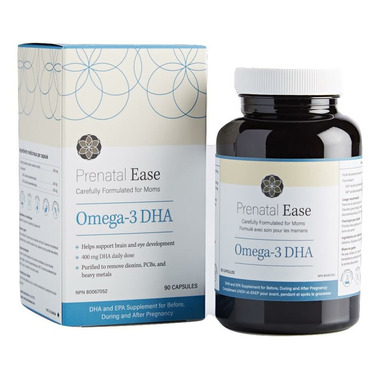 Prenatal Ease Omega 3 DHA
Before, During and After Pregnancy
90 Capsules | 150 g
Support eye, brain and immune systems development!
Prenatal Ease Omega 3 DHA is the perfect companion to all the Prenatal Ease products. You can take it before, during and after pregnancy. Omega 3 fatty acids are essential and can only be obtained through diet. The richest sources of Omega 3 are from oily fish, but unfortunately most women do not eat the recommended amount.
Prenatal Ease Omega 3 DHA provides you with all the recommended Omega 3 fatty acids but without the risk of contaminants. Our fish oil is first made from fish that is naturally low in contaminates and then it is further purified through molecular distillation. They are then tested in house and by a third party laboratory to ensure maximum purity and quality. Within the Omega 3 fatty acids, the two most beneficial fatty acids are DHA and EPA. DHA is essential to fetal growth and development and are particularly important to visual and cognitive development. EPA supports the development of the cardiovascular, immune and inflammatory system.
Studies also show that EPA is essential in helping the transportation of DHA through the placenta to the baby and it is helps DHA get through the fetal cell membrane. Each serving of Prenatal Ease Omega 3 DHA has both DHA and EPA to ensure you get the maximum benefit of the Omega 3 fatty acids
Features:
Gluten free, lactose free, no artificial colours, no artificial flavours, not tested on animals
Helps support brain, eye and immune system development 400 mg DHA daily dose along with 600 mg of EPA
Sourced from fish species naturally low in contaminants like mercury
Purified to remove dioxins, PCBs, and heavy metals like lead, mercury, and cadmium
Rigorously checked in house and by a 3rd party lab to ensure maximum purity and quality
Easy to swallow soft gel capsules
Available in 90 capsule bottles (1.5 month supply)
Directions:
Take 2 capsules per day, or as directed by a healthcare practitioner.
Do not use if under cap seal is broken. Store in airtight container, protected from light. As with any dietary or herbal supplement, you should consult your healthcare practitioner prior to using this product if you are taking medication or have a medical condition. Keep out of reach of children
Serving Size:
Two (2) capsules Total Omega-3's 1000 mg EPA (Eicosapentaenoic acid)600 mg DHA (Docosahexaenoic acid) 400 mg Other Ingredients: Purified fish oil (from salmon, sardines, anchovies) Water Gelatin Glycerin Tocopherols NF.