Primal Kitchen Balsamic Vinaigrette & Marinade
Primal Kitchen Balsamic Vinaigrette & Marinade
Primal Kitchen Balsamic Vinaigrette is a classic blend of premium organic balsamic vinegar and organic herbs and spices, delivering a bold flavour combo of tangy and sweet in every bite. Plus, it is made with 100% pure avocado oil and is free of sugar and industrialized seed oils (like soy or canola oil).

It's functional food at its most delicious, filling your body with monounsaturated, heart-healthy fats and antioxidants. No sacrificing health for flavor here! The crafted blend of acidity and sweetness makes for a delicious salad dressing and drizzling sauce. But, it is also the perfect stand-in to sauté vegetables, marinate or braise meat and dip appetizers.

Features:
Heart-Healthy, Monounsaturated Fats from Avocado Oil
Vegan

Free of Dairy, Soy, Canola, Sunflower & Safflower Oil and Sugar
Keto approved, Certified Paleo and Whole 30 approved
Ingredients: Organic Balsamic Vinegar, Avocado Oil, Water, Sea Salt, Organic Lemon Juice Concentrate, Organic Garlic Powder, Organic Onion Powder, Konjac, Organic Black Pepper, Organic Basil, Organic Oregano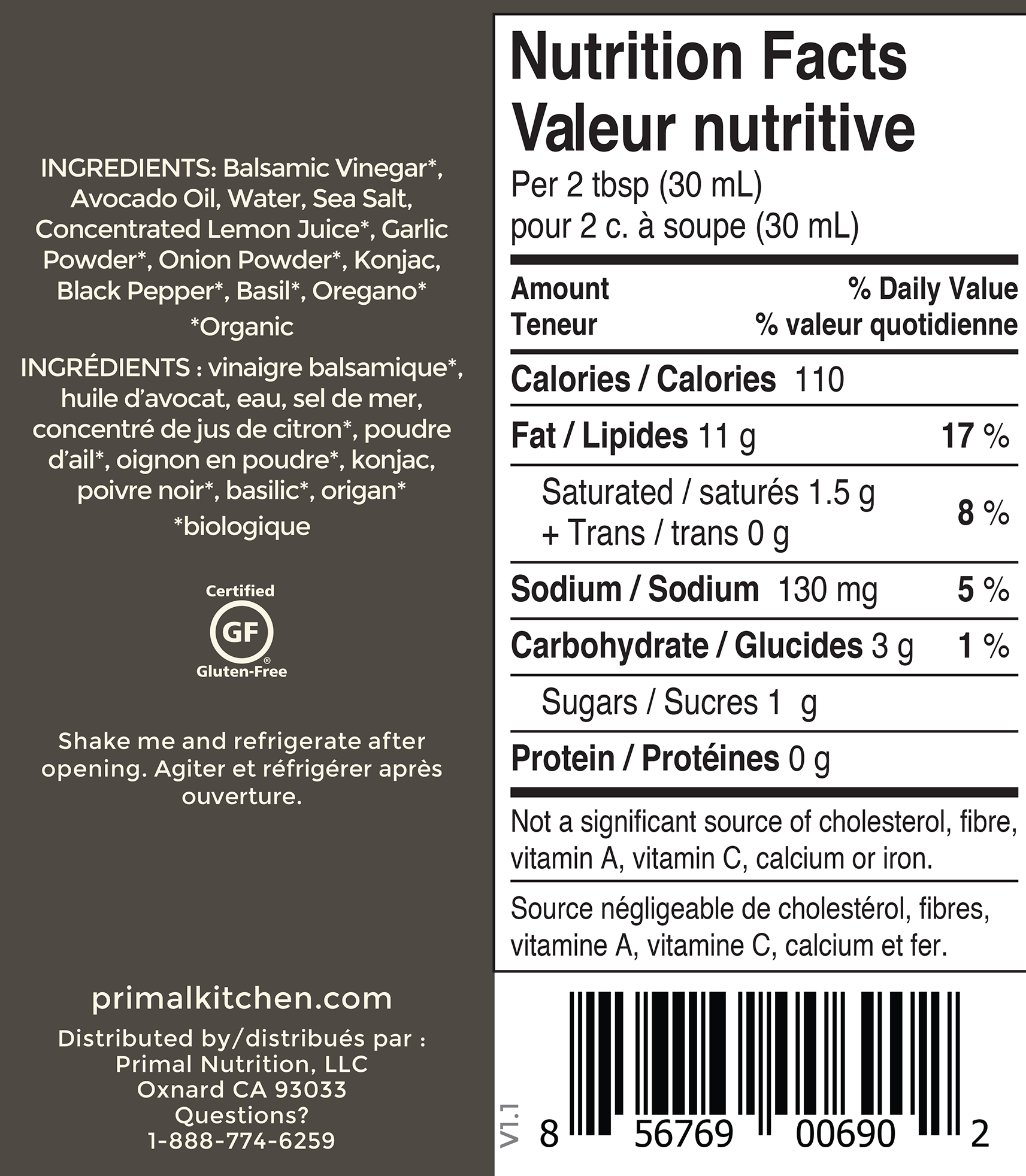 Primal Kitchen is free of sugar, gluten, dairy, soy and canola-oil, and Non-GMO Project Verified so you can indulge to your taste buds' delight, worry free!!