Primal Kitchen Creamy Italian Dressing & Marinade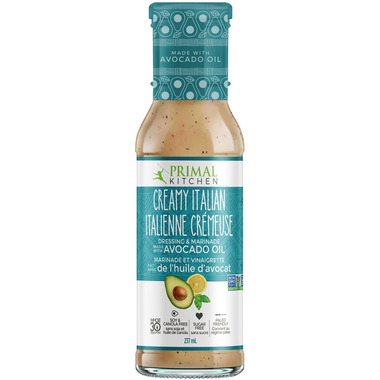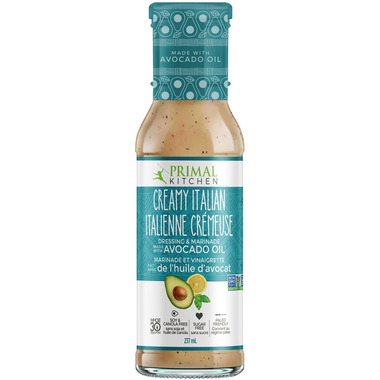 Primal Kitchen Creamy Italian Dressing & Marinade
Meet Primal Kitchen's Dreamy Italian Dressing made with Avocado Oil—a gluten-free, dairy-free, creamy Mediterranean masterpiece perfect for dipping, dressing, and drizzling on just about any meal.
Infused with monounsaturated fats from avocado oil, and packed with organic herbs and spices, their Dreamy Italian Dressing & Marinade is bursting with full-bodied flavor and nourishing ingredients guaranteed to satisfy every palate.

This dressing is the latest example of Primal Kitchen kicking traditional industry pitfalls to the curb, and it's truly a game changer when it comes to marinades, salads, macronutrient bowls, and avocado fries. Whether you're dressing up a salad, marinating meat, smothering a savory dish, or using this condiment as a flavorful dip for fresh veggies, they promise that this flavor-packed primal delight will be your ultimate culinary companion.

Features:

Infused with Monounsaturated Fats from avocado oil
Free of Canola, Sunflower, and Safflower Oils
Paleo, and Keto-Friendly
Non-GMO Project Verified
Ingredients: Avocado Oil, Water, Organic Red Wine Vinegar, Sea Salt, Organic Lemon Juice Concentrate, Organic Onion Powder, Organic Black Pepper, Organic Basil, Organic Garlic Powder, Organic Oregano, Konjac Root, Organic Crushed Red Chile Pepper, Organic Thyme.