Primal Kitchen Green Goddess Dressing & Marinade
Primal Kitchen Green Goddess Dressing & Marinade
What makes Primal Kitchen Green Goddess Dressing greener than the rest? It's made with avocado oil, a heart-healthy oil that helps your body absorb more nutrients from the foods you're dressing up Green Goddess style! Unlike others on the market, this Green Goddess dressing contains no soy or dairy, no added sugar, is totally gluten free and is made with coconut aminos and apple cider vinegar.

Classic and creamy, flavored with only organic herbs and spices like tarragon, black pepper, garlic cloves, chives and parsley, this Green Goddess adds savory spice to any meal and is perfect for drizzling over grilled chicken or shrimp, and, of course, as your go-to salad dressing. Pour it on with zest!

Features:

Heart-Healthy, Monounsaturated Fats from Avocado Oil
Features Organic, Cage-Free Eggs
Soy, Canola, Sunflower & Safflower Oil Free
Sugar Free, Dairy Free, Keto, Ceritified Paleo and Whole 30 approved
Ingredients: Avocado Oil, Water, Organic Apple Cider Vinegar, Organic Dijon (Organic Apple Cider Vinegar, Water, Organic Mustard Seed, Sea Salt, Organic Spices), Organic Coconut Aminos* (Organic Coconut Flower Blossom Nectar, Sea Salt), Organic Distilled Vinegar, Sea Salt, Organic Cage-Free Eggs, Gum Acacia, Organic Lemon Juice Concentrate*, Konjac, Organic Black Pepper, Organic Tapioca Starch, Organic Garlic, Organic Chives, Organic Tarragon, Organic Parsley, Organic Savory, Organic Rosemary Extract *Adds a negligible amount of sugar. Not a low-calorie food.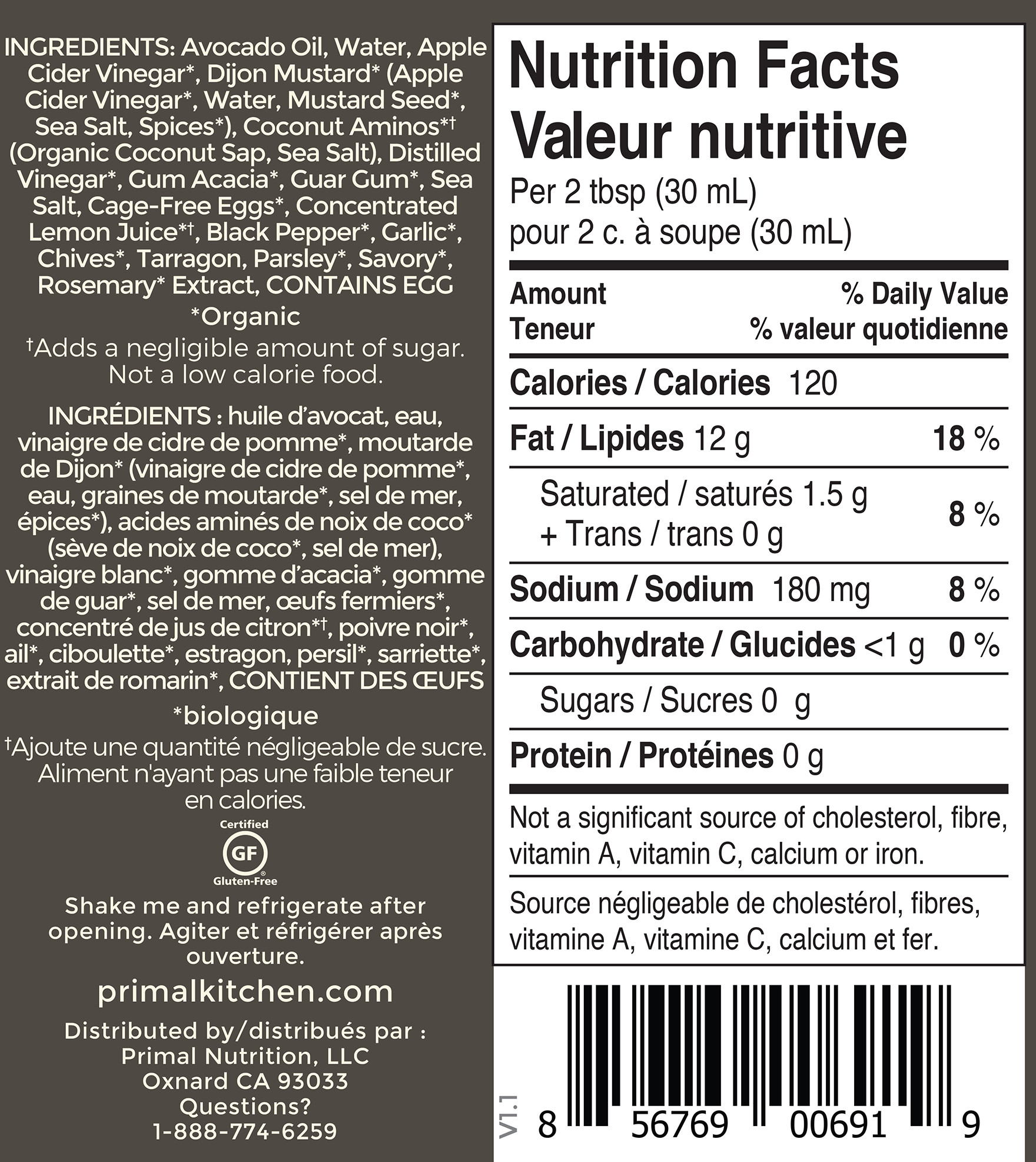 Primal Kitchen is free of sugar, gluten, dairy, soy and canola-oil, and Non-GMO Project Verified so you can indulge to your taste buds' delight, worry free!!