Primal Kitchen Sesame Ginger Vinaigrette & Marinade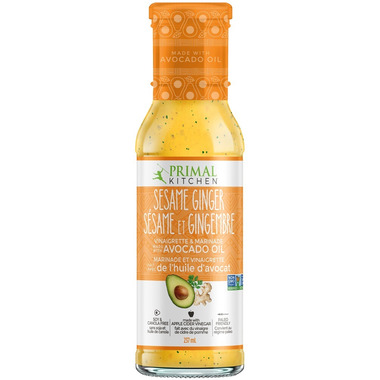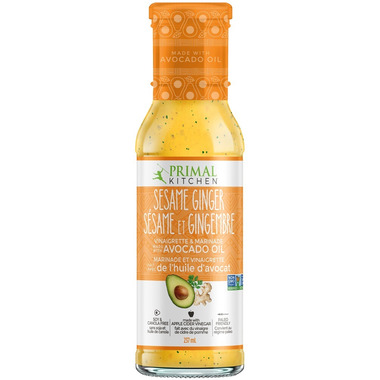 Primal Kitchen Sesame Ginger Vinaigrette & Marinade
The gateway to impeccable Asian cuisine: sweet, sour, and spicy with organic apple cider vinegar, organic ginger, and roasted sesame seeds.
Meet Primal Kitchen's Sesame Ginger Dressing with avocado oil—the easiest way to revolutionize your Asian cuisine. Gluten-free, dairy-free, and soy-free, this plant-based condiment enhances every eating experience with an alluring, versatile flavor profile.

Infused with avocado oil, organic apple cider vinegar, and lightly roasted sesame seeds, this dressing is packed with ingredients designed to support a well-balanced diet. Plus, Primal Kitchen's Sesame Ginger Dressing with avocado oil is the perfect condiment for changing up your favorite recipes and taking your culinary adventures to new heights. Use this spicy, sweet, and sour blend to easily transform your Asian salads, California rolls, and tuna wraps into authentic and truly irresistible dishes.

Free of added refined sugars, artificial ingredients, and GMOs. Say no to preservatives, additives, added sugars, and industrial seed oils with a real food, mouthwatering dressing made with all the wholesome ingredients you know and love.

Features:

Infused with Monounsaturated Fats from avocado oil
Free of Canola, Sunflower, and Safflower Oils
Paleo and Keto-Friendly
Nutrient Dense Ingredients
Ingredients: Water, Avocado Oil, Organic Sesame Oil, Organic Apple Cider Vinegar, Organic Distilled Vinegar, Organic Coconut Aminos (Organic Coconut Sap, Sea Salt), Organic Honey, Organic Ginger, Organic Sesame Seeds, Sea Salt, Organic Guar Gum, Organic Coriander, Organic Garlic, Organic Black Pepper. Contains: Sesame.