Hydroxycut
Pro Clinical Hydroxycut Advanced Instant Drink Mix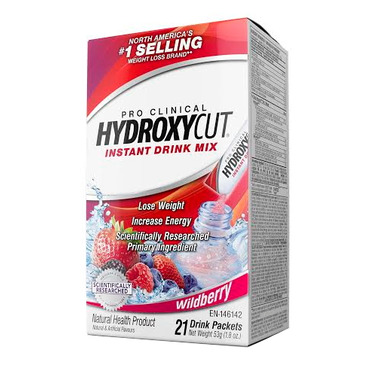 Hydroxycut
Pro Clinical Hydroxycut Advanced Instant Drink Mix
Wildberry
21 Count
Pro Clinical Hydroxycut Advanced Instant Drink Mix
is rated out of
5
by
5
.
---
Description
Shake things up with Pro Clinical Hydroxycut® Instant Drink Mix packets – a delicious way to help you manage your weight! This drink mix contains the same scientifically researched key ingredient as Pro Clinical Hydroxycut® caplets but in convenient, on-the-go single-serve drink packets! Simple and, most importantly, effective, the Hydroxycut® formula has never been more convenient or enjoyable thanks to Pro Clinical Hydroxycut® Instant Drink Mix packets.


Features:

Scientifically researched key ingredient (200 mg of green coffee per serving)
Advanced weight management
Increases energy
Helps metabolize fats, carbs, and proteins
Wildberry flavour
Recommended Dose (Adults): Open a standard 500 mL bottle of water, take a sip, then empty one packet into the bottle, shake and consume it immediately 2 times daily. Take each serving approximately 30 to 60 minutes before meals. Do not exceed 2 servings (2 packets) in a 24-hour period. For best results, use for 60 days in conjunction with a calorie-reduced diet and a regular exercise program.
Medicinal Ingredients:
Pro Clinical Hydroxycut Blend............................................................455 mg
Hydroxagen
Green Tea extract (as. C. canephora robusta) (bean)..................200 mg
Standardized to 45% chlorogenic acids
Standarized to 10% 5- caffeoylquinic
Passionflower extract (as Passiflora incarnata) (flower).............. 50 mg
Calendula extract (as Calendula officinalis) ( flower)...................10 mg
HydroxyPlus
Caffeine...........................................................................................125 mg
Rosemary extract (as Rosmarinus officinalis) (leaf)........................50 mg
Angelica (as Angelica archangelica) (root).......................................10 mg
Hyssop extract ( as Hyssopus officinalis) (leaf)................................10 mg
Non Medicinal Ingredients: Citric acid, Natural and Artificial Flavour, Maltodextrin, Acesulfame- Potassium, Sucralose, Allura Red AC, Sugarcane Juice, DL-Malic Acid.
Produced in a facility that produces milk, soy, wheat, egg, shellfish, tree nut and peanut ingredients.
Risk Information: Not intended for use by persons under 18. Consult a health care practitioner before use if you have a peptic ulcer, diabetes, cardiovascular disease, high blood pressure, glaucoma and/or detrusor instability, or are taking lithium. Hypersensitivity/ allergy has been known to occur when taking green coffee, calendula, passionflower or caffeine, in which case discontinue use. Do not use of you are allergic to plants of the Asteraceae/Compositae/ Daisy Family. Consumption with alcohol or other medications or natural health products with natural sedative properties is not recommended. Exercise caution if operating heavy machinery, driving a motor vehicle or are involved in activities requiring mental alertness. Avoid prolonged UV light exposure. Consumption with other natural health products, or other drugs that increase blood pressure is not recommended. Do not combine with other sources of caffeine. This product is not intended as a substitute for sleep.
Shipping & Returns
Rated

4

out of

5
by
Laurie
from
great taste, but not sure if it'a working as a weight loss aid for me. Slower results than I expected but I'm drinking water anyway so why not add some flavor. Each packet will flavor a Litre or more of water.
Date published: 2012-05-02
Rated

5

out of

5
by
Karen
from
I have been using this product for a while now and with diet and excersise I believe it is an added bonus. I feel like I have more energy and that I am less hungry! Its great!
Date published: 2011-10-19
Rated

5

out of

5
by
Deidre
from
Easy to add to a daily routine. I drink one large glass of water every morning while getting ready. It obviously has a boost and wakes me up better than coffee.
Date published: 2012-10-17
Rated

5

out of

5
by
dave
from
Tastes really good I like drinking this rather than coffee. Just used 4 times now... don't notice any weight loss yet but it does give me more energy
Date published: 2015-06-10
Rated

5

out of

5
by
Susan
from
This does work and it tastes good too.
Date published: 2014-12-20