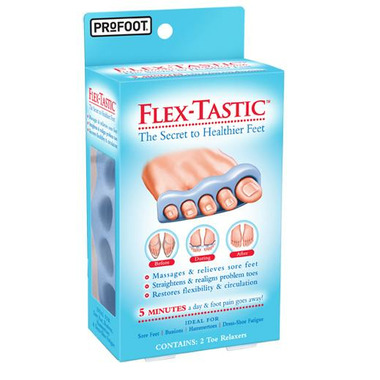 2 Count
Profoot Flex-Tastic
is rated out of
5
by
17
.
---
Description
Inspired by the healthy benefits of Yoga, the Flex-Tastic exerciser helps realign and relieve the pain of mistreated toes. Wear for as little as 5 minutes a day to restore foot health, relieve stress and tension in both feet and legs, and increase circulation

Massages and relieves sore feet
Straightens and re-aligns problem toes
Restores flexibility and circulation
Shipping & Returns
Unfortunately, due to the nature of this item, we cannot accept any returns.
We are only able to ship this item to Canadian customers.
Click here for more information
Rated

4

out of

5
by
Alida
from
Use them every day for about 30 minutes, started with 5 minutes. Must be worn without socks, when you're sitting or lying down, you don't walk around with house with them. I wear them when meditating. My toes are skinny, yet they fit. If they start stretching they may become too big, haven't used them long enough to know if that will eventually happen. Have only been using them for about one week or so. They're comfortable to wear, decided to buy these instead of the expensive ones with the catchy name.
Date published: 2014-04-04
Rated

5

out of

5
by
Seumas
from
For what they are designed for I give them a 10, OK for a larger feet, small feet ? helps greatly for foot pain, for ease of application wet them,
Date published: 2016-11-28
Rated

5

out of

5
by
Judy
from
I am a senior. I use Flex-Tastic every day for two hours. It help realign my toes and stops them from complaining.
Date published: 2018-07-20
Rated

1

out of

5
by
D
from
This is useless for people with skinny toes. I have a gap between my big and second toe so even though this stretches the other toes slightly, it does nothing for my bunion. Overall, the stretch is extremely minimal for me. I'm so glad I tried these on in a store before buying them!
Date published: 2013-04-21
Rated

1

out of

5
by
airdc
from
Very Disappointed
I've used many toe products. The length of this product is way too long. I could never stretch my toes (size 7 womens) out that far. Even if I could, the toe holes are way too large to keep toes in. My toes slipped right out. It was a waste of money.
Date published: 2022-02-14
Rated

5

out of

5
by
Jennifer
from
Ive always had pain in my feet, caused by bad bunions. I bought these in a local drugstore and thought my friend could also use them, so of course I found them at well.ca. I highly recommend these as an economic version to I yoga toes.
Date published: 2012-12-20
Rated

3

out of

5
by
MFK
from
I've been using these for a few weeks now, about 20 minutes in the evening while relaxing with my feet up. The spacer between the smallest and second smallest toe is quite large and uncomfortable, although my feet are not small - women's size 8. Otherwise they work well and feel good. I do get cramps in my calves occasionally while wearing these, I remove them immediately when that happens and the cramps disappear.
Date published: 2019-03-21
Rated

5

out of

5
by
Sandra
from
Since realizing I have Morton's neuroma I have been looking in all the usual places for these toe separators until my daughter told me she bought hers at Well.ca! I love this product and feel it is already making a difference. I am up to 10 minutes per day after only 1 week. Thanks Well.ca.
Date published: 2016-06-01