Progressive Chewable Multi for Adult Women
Natural Citrus Flavour
60 tablets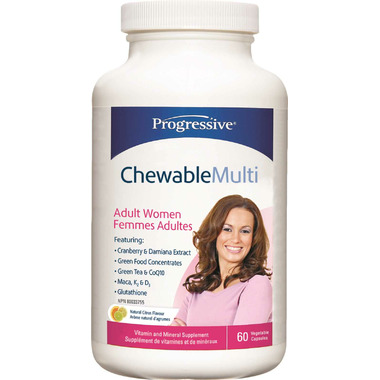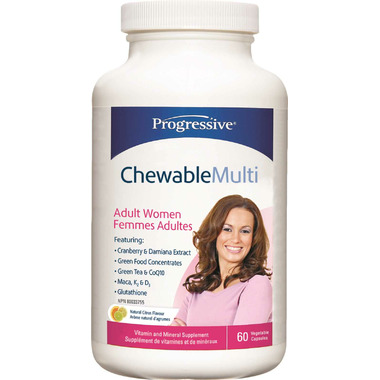 Progressive Chewable Multi for Adult Women
Natural Citrus Flavour
60 tablets
Progressive Chewable Multi for Adult Women is the perfect choice for anyone who has trouble swallowing pills. It addresses the nutritional needs of a modern lifestyle in a delicious Natural Citrus flavour.
Features:
Provides free radical defense
Promotes a healthy urinary tract
Supports cardiovascular health
Balances pH
Strengthens immune function
Supports healthy thyroid function
Assists with healthy digestion
Promotes clear, healthy skin
Helps to maintain healthy bones
Key Ingredients:
Cranberry & Damiana Extract
Green Food Concentrates
Green Tea & CoQ10
Maca, K2 & D3
Glutathione

Non-medicinal Ingredients:
Microcrystalline Cellulose, Colloidal Silicon Dioxide, Magnesium Stearate, Dextrates, Hypromellose.

In a base of:
Honey Powder, Organic Maple Syrup Powder, Fructose, Birch Sugar (Xylitol), Stevia Leaf, Natural Mixed Berry, Lemon and Vanilla Flavours, Citric Acid, Malic Acid.
Suggested Use (Adults):
Take 1 tablet with breakfast, lunch, and dinner for a total of 3 tablets per day.


Marie:
more than a year ago
I'm not a vitamin expert, but I consider myself a vitamin junkie. I've tried centrum, jamieson, natural factors chewables, but I always come back to Progressive because I have never seen a vitamin with so many healthy ingredients. The only con is that you have to take 3 a day, but on the plus side they taste pretty good. Some people don't like the texture of chewable vitamins, but I do and I think they taste good. Now.. Do I notice a difference? I'm not sure. The only thing I've noticed is that everyone is sick like a dog around me and I haven't got sick yet. So, they must be helping :) Overall, 5/5 for making a good chewable vitamin. Yes, they are a bit pricey compared to others, but they have way more vitamin and mineral support!! can't go wrong with that.
Page
1