Progressive
Progressive Harmonized Protein Natural Vanilla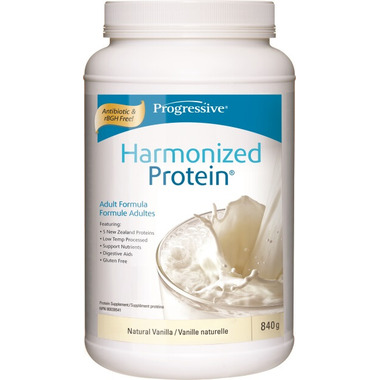 Progressive
Progressive Harmonized Protein Natural Vanilla
Description
Progressive Harmonized Protein features a blend of 5 high-quality, New Zealand sourced proteins known for their clean and pure protein around the world. New Zealand Protein New Zealand has an outstanding international reputation for sustainable agricultural practices. The cattle that produce the milk used to create these unique proteins graze in open pastures and are raised without the use of hormones, including rBGH. This is what makes Harmonized Protein the Cleanest Protein Possible. 5 Sources of New Zealand Protein Harmonized Protein features Whey Protein Concentrate, Whey Protein Isolate, Milk Protein Isolate, Colostrum and lactoferrin which are a source of branched chain amino acids for the maintenance of good health and helps build and repair body tissue.

Recommended Dosage & Directions: Add 1 scoop of Harmonized Protein to 200 ml of the beverage of your choice. Consume once daily or as recommended by a health care practitioner. Take a few hours before or after taking other medications.

Caution: Consult a health care practitioner prior to use if you have diabetes, liver or kidney disease. Do not use if you are pregnant, breastfeeding or allergic to cow's milk. May cause mild gastrointestinal disturbances. Hypersensitivity has been known to occur; in which case, discontinue use.
Highlights

Features
Featuring a blend of 5 New Zealand sourced proteins
From cattle raised without the use of hormones, including rBGH Routinely screened for over 250 agricultural and chemical contaminants
Fortified with support nutrients for optimal digestion and utilization
Contains no artificial flavours, colours or sweeteners Aids in proper muscle function & tissue formation
Ingredients
Medicinal Ingredients: New Zealand Whey Protein Concentrate (80% Protein) 24 g New Zealand Whey Protein Isolate (90% Protein) 4,000 mg New Zealand Milk Protein Isolate (85% Protein) 1,000 mg Colostrum 50 mg Lactoferrin 20 mg DL-Alpha Lipoic Acid 15 mg Botanicals Organic Flax Seed (Linum usitatissimum) 100 mg Downy Birch (Betula pubescens, Leaf) 50 mg Dulse (Palmaria palmata, Thallus) 25 mg Spirulina platensis (Whole) 25 mg Kelp (Ascophyllum nodosum, Whole) 25 mg Bitter Gourd (Momordica charantia, Fruit) 15 mg Papaya (Carica papaya, Fruit) 15 mg Pineapple (Ananas comosus var. comosus, Fruit) 15 mg Corn Silk (Zea mays, Stigma & Style) 5 mg Non-Medicinal Ingredients: Natural Flavour, Guar Gum, Stevia Leaf Extract, Lecithin.
Shipping & Returns