Progressive Harmonized Vegan Protein



​Multi Source Vegan Protein
Harmonized Vegan Protein derives its protein from a number of non-GMO plant-based sources including Yellow Pea, Organic Hemp Seed, Organic Brown Rice, Chia Seed and Cranberry.
Each scoop provides 25 g of gluten free, vegan protein and is ideal for anyone wishing to supplement their intake while avoiding or reducing their consumption of animal-based proteins.
Features
:
Gluten Free
Sugar Free
Providing the full spectrum of both essential and non-essential amino acids from the cleanest possible sources
Fortified with a complete array of complementary support nutrients
Naturally flavoured and sweetened and free of artificial ingredients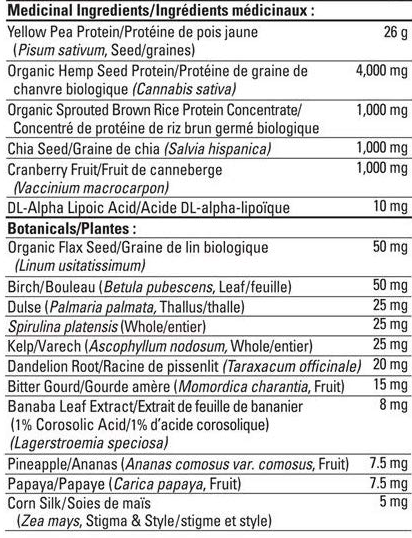 Non-Medicinal Ingredients: Cocoa, Natural Flavours, Guar Gum, Stevia Leaf Extract.
Suggested Dose (Adults): As a source of essential amino acids for the maintenance of good health, add 1 scoop (36.9 g) of Harmonized Vegan Protein to 300 ml of the beverage of your choice. Consume once daily or as directed by a healthy care practitioner. For use beyond 12 weeks, consult a health care practitioner.
Cautions: Consult a health care practitioner prior to use if you are pregnant, breastfeeding, have a thyroid condition or are sensitive to iodine, or taking blood thinners: if you have diabetes, a history of kidney stones. Hypersensitivity (e.g. allergy) has been known to occur; in which case, discontinue use.