Progressive HCP 150 Probiotic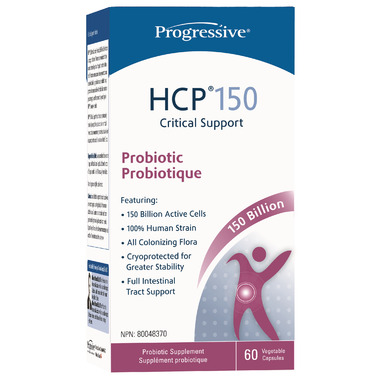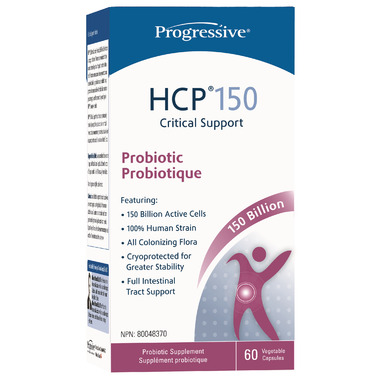 Progressive HCP 150 Probiotic
- We're sorry, this product is no longer available!
- Shop for other products in: Probiotics

Your intestines are home to trillions of bacteria cells that need your help to stay in balance. Progressive HCP 150 Probiotic offers all the health promoting benefits of HCP 30 and HCP 70, but at a maximum strength potency for times when a more therapeutic dose has been recommended, or when critical support is required on a temporary basis to restore proper gastrointestinal balance.

Progressive HCP 150 Probiotic, when taken as directed, provides 150 billion active cells per day. It features 6 human strains that implant healthy flora throughout the entire digestive tract. It has also been cryoprotected and a family of stabilizing support nutrients has been added to help ensure the viability of the flora.

Benefits:
Gluten Free
100% human strain - for optimum compatibility with your digestive system

Ingredients:
Medicinal Ingredients 1 Capsule: 2 Capsules:
Probiotic Strains (cryoprotected):
Lactobacillus rhamnosus HA-111 44.625* cfu 89.250* cfu
Bifidobacterium breve HA-129 16.500* cfu 33.000* cfu
Lactobacillus acidophilus HA-122 7.500* cfu 15.000* cfu
Bifidobacterium bifidum HA-132 4.500* cfu 9.000* cfu
Bifidobacterium longum HA-135 1.500* cfu 3.000* cfu
Lactobacillus salivarius HA-118 0.375* cfu 0.750* cfu
Total in billions at time of expiry 75* cfu 150* cfu

Non-Medicinal Ingredients:
Potato Starch (Solani amylum) ~130 mg ~260 mg
Silica 10.50 mg 21 mg
Magnesium Stearate (Vegetable) 15.75 mg 31.50 mg
Vitamin C (Ascorbic Acid) 2.1 mg 4.2 mg

Other Non-Medicinal Ingredients: Capsule Shell: Hypromellose (Vegetable Cellulose), Purified Water.

Suggested Dose: Consume 1 capsule after breakfast and 1 capsule after dinner for a total of 2 capsules per day. Take 2-3 hours away from antibiotics.

Cautions: Consult a health care practitioner prior to use if you have fever, vomiting, bloody diarrhea or severe abdominal pain. Discontinue use and consult a health care practitioner if symptoms of digestive upset occur, worsen, or persist beyond 3 days. Do not use if you have an immune-compromised condition.