Progressive OmegEssential High Potency Fish Oil

OmegEssential® High Potency Fish Oil is a foundational supplement designed to be taken on a daily ongoing basis. It has a long list of benefits including enhancing mental acuity and brain function, and is ideal for the maintenance of good health.
Each serving provides 1,000mg of EPA and 550mg of DHA in a balanced 2:1 ratio. It also includes a family of support nutrients designed to naturally enhance your body's ability to process and utilize the essential fatty acids.
Benefits:

Supports cardiovascular health
Improves focus, concentration and mental acuity
Assists with healthy mood balance
Strengthens immune function
May reduce occurrence of asthma and allergies
Reduces inflammation
Promotes healthy skin and hair
Features:

1000mg EPA, 550mg DHA
3 Complementary fish oils
Cold water and wild caught
Molecularly distilled
Unique family of support nutrients
100% all natural ingredients
A clean, pleasant taste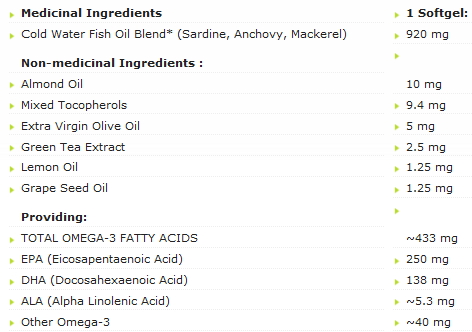 Other Non-medicinal Ingredients: Gelatin, Glycerin, Purified Water, Caramel Powder, Natural Orange Flavour.
Contains no artificial flavours, colours, sweeteners or artificial preservatives of any kind.
*Proportions of the individual fish oils may vary due to seasonal availability and sustainability.
Directions (Adults): Take 2 softgels with breakfast and 2 softgels with dinner for a total of 4 softgels per day or as directed by a healthcare practitioner.