Progressive Ultimate Fish Oil for Kids Liquid
Orange Creamsicle Flavour
200 mL

Ultimate Fish Oil for Kids is a high potency, multi-source fish oil supplement designed to help nourish a developing body and mind. It features a blend of 6 cold water, wild caught fish oils including sardine, anchovy, mackerel, herring, tuna and salmon. It is made entirely from all natural ingredients and is completely free of artificial flavours, colours, sweeteners and preservatives.
Benefits:
Helps support a developing body and mind
Improves focus, concentration and mental acuity
May reduce occurrence and severity of asthma, eczema and allergies
Assists with development of the eyes and nerves
Strengthens immune function

Orange Creamsicle Flavour
Features:

800mg DHA, 200mg EPA
6 Purified Fish Oils
Cold Water & Wild Caught
Flax & Evening Primrose Oil
All Natural Ingredients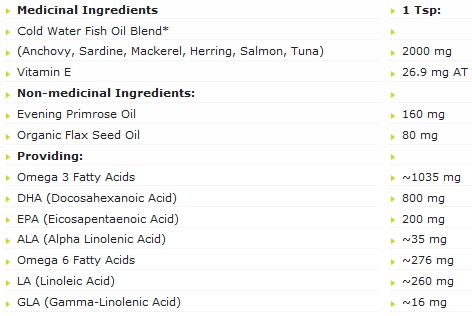 Non-Medicinal Ingredients: Sunflower Oil, Natural Orange Flavour, Stevia Extract.
Contains no added flavours, colours, sweeteners or preservatives of any kind. *Proportions of the individual fish oils may vary with seasonal availability.
Directions: Children (age 1–8 years): Take 1 tsp daily with food or as directed by a healthcare practitioner.
Children (age 9 and over): Take 1 tsp twice daily with food or as directed by a healthcare practitioner