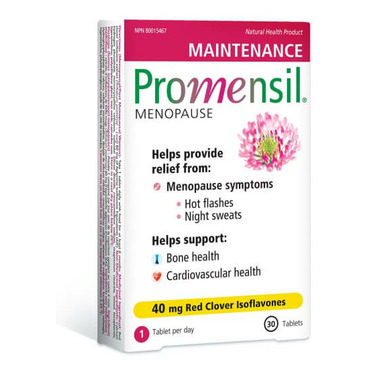 Description
When HRT is not an option, there is Promensil, Canada's #1 selling, #1 doctor and #1 pharmacist recommended natural health product brand for menopause symptom relief. Promensil is made from isoflavones extracted in Switzerland from red clover (Austrian) hay (Trifolium Pratense), produced into a tablet to pharmaceutical standards. All ingredients come from Australia and Switzerland/Austria. Each tablet of Promensil Regular Strength is standardized to contain 40 mg of four isoflavones (genistein, daidzein, formononetin and biochanin A). Free from yeast, milk derivatives, wheat and corn starch, gluten, preservatives, artificial colours and flavours. No sugar added.
Red clover isoflavones have been shown in clinical studies to reduce the severity and frequency of menopause symptoms like hot flashes, night sweats, sleeplessness, irritability, moodiness, vaginal dryness, etc. In addition, they support bone and heart health.

The Regular Strength 40mg pack is recommended throughout menopause as a maintenance dose.

Helps provide relief from:
Menopause symptoms (Hot flashes, Night Sweats)
Helps support:
Bone health
Cardiovascular heath
Dosage: Take 1 tablet every day with a meal to help absorption for at least 2 months. Nature takes time: most women experience relief within 3 to 8 weeks. For more severe symptoms, take one tablet in the morning and another in the evening with a meal (or take one tablet of Promensil Double Strength 80 mg daily).

Ingredients:

Trifolium pratense
Calcium phosphate, dibasic
Carnauba Wax
Colloidal anhydrous silica
Cross-linked sodium carboxymethylcellulose
Hypromellose
Iron Oxides
Magnesium Stearate
Microcrystalline cellulose
Mixed Tocopherols
Polyethylene Glycol"


Highlights

Shipping & Returns