A burst or warming organic cinnamon, cardamom and ginger
20 Sachets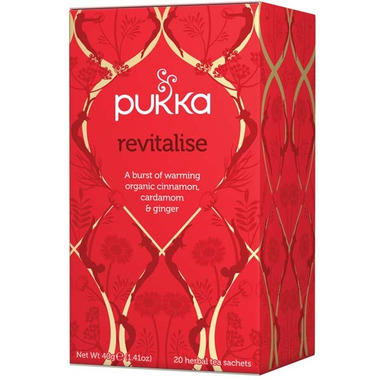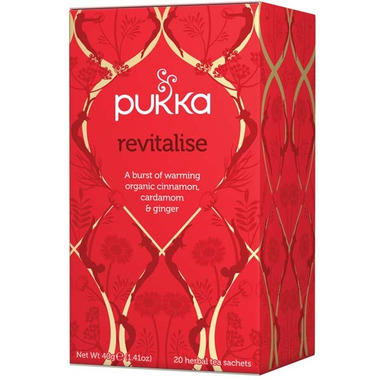 Pukka Revitalise Tea
A burst or warming organic cinnamon, cardamom and ginger
20 Sachets
A tea to wake you and invigorate you. The aroma itself is incredible, but the real show begins when you add steaming hot water. From the spicy flash of cinnamon, ginger and cloves, the aromatic pop of cardamom and orange, to the flicker of spearmint and green tea. This is a tea to welcome your senses back to life.
Features:
Organic
Non GMO
Vegetarian
Vegan
Kosher
Gluten Free
Soya Free
Wheat Free
Dairy Free
Nut Free
Ingredients:
Cinnamon bark (26%), orange peel, elderflower, cardamom pod (10%), licorice root, ginger root (7%), Sencha green tea, spearmint leaf, clove bud, black peppercorn.



Tracy:
more than a year ago
One of my favourite teas. Spicey but not overpoweringly so, also a little sweet. Aromatic. Calms me and energizes at the same time when I want a coffee alternative or when I'm sick and need a "warm tea hug".

One star off as I personally would love just a slight more bite to it but it's a great option for those who don't like their cinnamon to punch them in the face.
Page
1