Pure
PURE Kitchen + Bathroom Cleaner Peppermint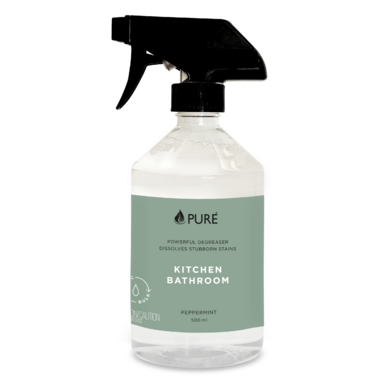 Pure
PURE Kitchen + Bathroom Cleaner Peppermint
Description
PURE Kitchen + Bathroom is well known to dissolve grease and the most tenacious of stains. This product deodorizes areas and is ideal for removing odors from garbage, empty trash cans, basements, toilets and other odor-prone areas caused by microorganisms.
Features:
Biodegradable
Septic system safe
Aroma with essential oils
Safe ingredients
Ingredients: Aqua , Laureth-9, Methyl isobutyl glycerol formal, Dodecylbenzene sulfonic acid, Methylglycinediacetic acid, Isopropylidene glycerol, Sodium lauriminodipropionate, Sodium hydroxide, Fragrance (mix containing at least 50% of natural essential oils and sometimes synthetic fragrance always without harmful chemicals). PURE is transparent, like their containers. PURE posts the full list of ingredients on their labels.
Use: For use on hard, non-porous surfaces. For heavily soiled surfaces, spray onto the surface and let stand for a few minutes. Clean and wipe with a clean, damp cloth.
Highlights