Pure Lab Vitamins Carbonyl Iron
Promotes Energy in Blood & Body
90 Capsules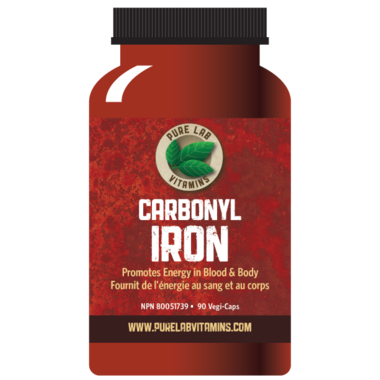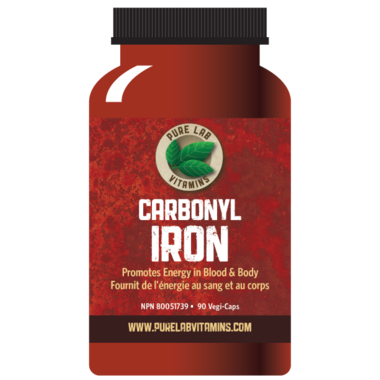 Pure Lab Vitamins Carbonyl Iron
Promotes Energy in Blood & Body
90 Capsules
Carbonyl Iron is an ideal source of essentially pure iron with low toxicity, minimal metallic taste, no gastro-intestinal pain nor constipation and excellent bioavailability of 69%.
Features:
Higher absorption because it is a metallic Iron
Helps to noticeably rise energy levels with fewer negative side effects
Easier on the gastrointestinal system and doesn't cause constipation
Carbonyl Iron helps to restore and increase ferratin levels, helping you to preform at your best
Higher Iron content in a lower dose per capsule
Dosage:
Adults: 1 capsule 1-2 times per day; Adolescents 13-18 years: 1 capsule 1 time per day. Take as directed by your health practitioner, preferably on an empty stomach.
Ingredients:
22.5 mg Iron (Iron, Carbonyl); 100mg Vitamin C (L-Ascorbic acid);
Non-Medicinal Ingredients:
100% Vegi-caps, cellulose, Magnesium Stearate, Silicon Dioxide

Contains No:
Sugar, yeast, wheat, gluten, milk, egg, shellfish or preservatives.

Caution:
Individuals with diagnosed iron-deficiency anemia should consult their physician regarding higher intake of iron supplements.