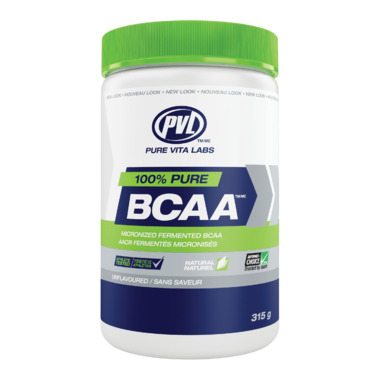 Description
BCAAs (the 3 essential Branch Chain Amino Acids; L-Leucine, L-Valine and L-Isoleucine) are directly linked to muscle protein growth. Instantized to enter the bloodstream 215% more completely. Taking BCAAs during or after training prevents muscle loss and improves whole muscle recovery. Tested 100% to USP pharmaceutical standards for safety, purity and efficacy.
Initiates muscle protein synthesis improves performance
Lessens muscle damage
Fermented
No animal products
Ingredients: Per 5 g
L-Leucine (USP Grade) 3 g
L-Valine (USP Grade) 1.5 g
L-Isoleucine (USP Grade) 1.5 g
Non-Medicinal Ingredients:Glycine, soya lecithin

FOOD ALLERGY INFORMATION: Contains soy. This item is made on machinery that also handles powder ingredients derived from (and therefore may inadvertently contain) milk, egg, wheat, corn, peanut, tree nuts, seeds, crustacean product (glucosamine), sulfites; consult your physician before use if have any food allergies.

WARNINGS: Consult a healthcare practitioner prior to use if you are pregnant or breatfeeding, if you have a liver or kidney disease or if you have been instructed to follow a low protein diet.

Shipping & Returns