Quest
Quest Adults Chewable Multivitamins & Minerals
Natural Cranberry & Raspberry Flavours 90 Tablets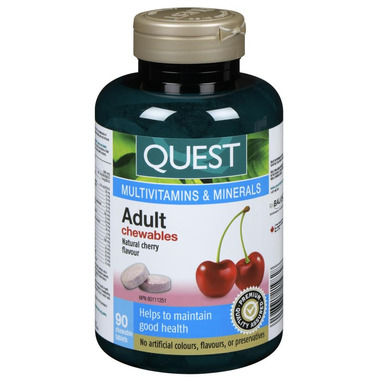 Quest
Quest Adults Chewable Multivitamins & Minerals
Natural Cranberry & Raspberry Flavours
90 Tablets
---
Description
Are you having difficulty swallowing large tablets, yet still looking for the multivitamin? QUEST has the perfect solution for your dilemma! These delicious, cranberry and raspberry flavoured tablets provide all the essential antioxidants, vitamins and minerals necessary to support a typical, adult lifestyle.

This New Quest Adult chewable multivitamin and mineral formula utilizes the most advanced manufacturing technologies to deliver all the important vitamins and minerals in a chewable format . Directions for use: Two tablets daily with morning or noon meal, or as directed by a health professional. Note: this product contains no artificial preservatives, colours, flavours or added sucrose, starch, milk products, wheat, gluten or yeast. Excipients: Sweetened with dextrose, fructose, sorbitol and sucralose. citric acid , magnesium stearate (vegetable source), silicon dioxide, natural colours and raspberry and cranberry extract flavours.
Recommended Dosage: Adults: Take 1 tablet daily with a meal or as directed by a health care practitioner. Take a few hours before or after taking other medications or natural health products.
Highlights

Ingredients
"Beta-carotene... 3600 mcg Vitamin A (palmitate) ... 907 mcg RAE/3000 IU Vitamin D (cholecalciferol)... 5 mcg/200 IU Vitamin E (d-alpha tocopheryl acetate) ... 33.5 mg AT/50 IU Vitamin C (calcium ascorbate)...125 mg Thiamine (mononitrate) ...10 mg Riboflavin ...10 mg Niacinamide ...10 mg Pantothenic Acid (calcium d-pantothenate) ...10 mg Vitamin B6 (pyridoxine HCI) ...10 mg Folate (folic acid) ...250 mcg Vitamin B12 (cyanocobalamin)...15 mcg Biotin ...50 mcg Calcium (calcium phosphate dibasic, calcium ascorbate) ...75 mg Magnesium (oxide) ...65 mg Iron (ferrous fumarate)...5 mg Zinc (oxide)...2.5 mg Copper (HVP* chelate)...1000 mcg Manganese (gluconate)...1 mg Iodine (potassium iodide) ...50 mcg Selenium (HVP* chelate) ...50 mcg Chromium (HVP* chelate) ...25 mcg Molybdenum (HVP* chelate)...10 mcg Vanadium (HVP* chelate)...10 mcg * Hydrolyzed Vegetable Protein Non-medicinal Ingredients: Sorbitol, dextrose, microcrystalline cellulose, stearic acid, magnesium stearate, silicon dioxide, citric acid, sucralose, natural flavour (cherry), natural colour (pink)."
Shipping & Returns