Quest
Quest Chewable Cal-Mag - Spearmint
with Vitamin D 90 Tablets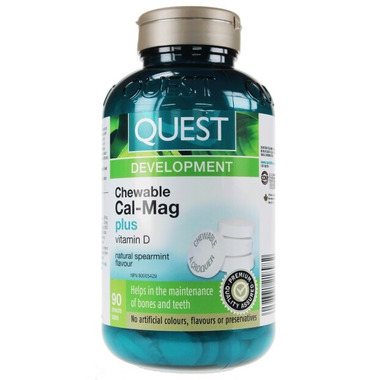 Quest
Quest Chewable Cal-Mag - Spearmint
with Vitamin D
90 Tablets
Quest Chewable Cal-Mag - Spearmint
is rated out of
5
by
11
.
---
Description
Quest Cal-Mag Chewable is a high-quality supplement containing calcium and magnesium in a 2:1 ratio, plus vitamin D3. The spearmint flavour gives this product a refreshing taste and makes it ideal for those who want the benefits of a high-potency calcium and magnesium supplement, but have difficulty swallowing tablets. Calcium and magnesium are vital components of bone and tooth metabolism, and both participate in energy production, muscle contraction, nerve function, and the maintenance of the acid-alkali balance of body fluids. Vitamin D is essential for the absorption of calcium.

Each chewable, spearmint-flavoured tablet of Quest Cal-Mag Chewable contains 300 mg of elemental calcium (citrate, phosphate), 150 mg of elemental magnesium (citrate, oxide), and 100 IU of vitamin D3. This product contains no artificial preservatives, colours, flavours, or added sugar, starch, milk products, yeast, gluten, or salt.
Highlights

Shipping & Returns
Rated

5

out of

5
by
M.
from
I have been using this Calcium product for a number of years. It was suggested to me by a Dr. for my Fibromyalgia symptoms. It is the only calcium that I have found that really helps my restless leg syndrom, and cramping of legs, feet and hands. It even tastes good. Great product!!!
Date published: 2012-06-05
Rated

5

out of

5
by
Diane
from
Oh so easy to shop for and I love the taste and the fact that I can chew it and it does keep the night time leg cramps at bay with it having the magnesium. Because I take medications that deplete calcium from the body I take two or three a day .Its GREAT please don't stop carrying it.
Date published: 2013-12-03
Rated

5

out of

5
by
Joanne
from
This is the first time I have tried this product and I like the chewable tabs. The spearmint flavor is strong, but I like it. I take one each night before bed and it helps me to relax and sleep. The shipping was very fast and right to my door.
Date published: 2017-03-31
Rated

5

out of

5
by
Ron
from
Great product. The combination of calcium and magnesium, when taken before bed, helps you relax and get a great nights sleep.
Date published: 2017-01-30
Rated

4

out of

5
by
cheryl
from
These taste OK, but not a fan of mint flavours. Good for me as I have trouble swallowing pills.
Date published: 2011-10-05
Rated

5

out of

5
by
Diana
from
These are great and tastey too! Especially good for health issues that inhibit absorption :)
Date published: 2011-09-21
Rated

5

out of

5
by
Jocelyne
from
Great product and hard to find magnesium and Vitamin D ... also great price and taste good
Date published: 2016-02-11
Rated

5

out of

5
by
B
from
The only chewable calcium I've ever found that also contains magnesium. Excellent product.
Date published: 2014-04-25