Quest Vitamin C - Timed-Release
Plus Citrus Bioflavonoids
120 tablets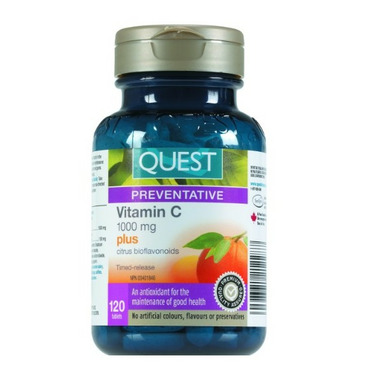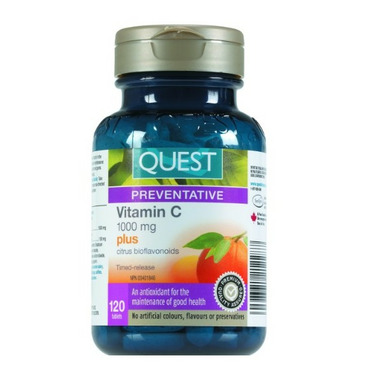 Quest Vitamin C - Timed-Release
Plus Citrus Bioflavonoids
120 tablets
- We're sorry, this product is no longer available!
- Shop for other products in: Vitamin C

Quest Vitamin C 1000 mg Timed Release is a high-quality vitamin C supplement formulated to release the vitamin C gradually over a period of four hours, thus keeping the tissues saturated and replenished with the vitamin C that is used up during physiological activities. This supplement is also enhanced with citrus bioflavonoids for added potency. Vitamin C helps to protect all body tissues from damage by free radicals and toxins. This nutrient plays an important role in the normal development and maintenance of bones, teeth, gums, cartilage, and skin. Vitamin C with citrus bioflavonoids helps maintain the structural health and permeability of capillaries, thus helping to prevent bleeding disorders, including spider veins, varicose veins, hemorrhages, and easy bruising
Ingredients: Each easy-to-swallow, timed-release tablet of Quest Vitamin C 1000 mg Timed-Release contains 1,000 mg of vitamin C (ascorbic acid) and 100 mg of citrus bioflavonoids.
Non-Medical Ingredients: dicalcium phosphate, magnesium stearate, microcrystalline cellulose, silicon dioxide, stearic acid, cellulose, glycerin.
This product contains no artificial preservatives, colours, or flavours, dairy, egg, gluten, shellfish, soy, sulfites, wheat or animal derivatives.
Dosage: 1000 mg