Rath's
Rath's pr88 Barrier Cream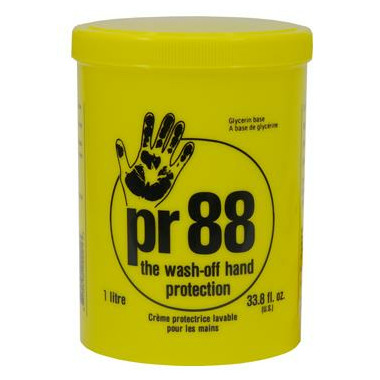 Rath's
Rath's pr88 Barrier Cream
Hand Protection
1 Count
Rath's pr88 Barrier Cream
is rated out of
5
by
22
.
---
Description
pr88 It's a water soluble skin protection cream, which is applied before work begins.

pr88 provides a non-greasy, non-sticky barrier against alcohol and carbon based substances like gasoline, diesel, oils, hydraulic fluids, creosote, fats, paint + thinners, tar, dyes resins, non-polar organic solvents, fiberglass, superglues, ink, graphite., epoxies, etc.Absorption of solvents and toxins by the skin is delayed and often prevented.

pr88 will not wipe off the skin nor transfer to surfaces touched once it has properly set on the skin (after approx. 1 minute) and therefore not contaminate work pieces.

pr88 is non-toxic, hypoallergenic, 85% biodegradable, and can be safely applied over open wounds and over face, neck, and other body parts; dermatologically tested and found to be safe for over 25 years as a serious health and safety product.
Shipping & Returns
Rated

5

out of

5
by
Susan
from
I ordered this product for my husband, who has developed contact dermatitis after years of working with wood. His fingertips are cracked and bleeding, and often so sore that it is almost impossible for him to work. This barrier cream is excellent, both for keeping chemicals etc out and for keeping moisture in. He is using a moisturizer first, followed by the barrier cream, and it has made a considerable difference in a relatively short time. Kudos to Well.ca for carrying innovative products such as this one.
Date published: 2011-11-09
Rated

5

out of

5
by
George
from
I'm 54 and have use barrier creams for the last 20 years while working as a fleet mechanic. I no longer have cracked and dried out skin on my hands and the dirt and grime does not get in the pores. I find that when I cut or scrape my hands they heal much faster. Rath's pr88 barrier cream is the most economical and effective one I have found. Well.ca is a great place to get this product. Reasonably priced and promptly shipped .
Date published: 2015-02-16
Rated

5

out of

5
by
Barry
from
Best product on the market, and I have tried them all. Keeps hands clean, protected, and prevents cracking from solvents etc. Could not work in industry without it. Price from well.ca is the best around. Free shipping is a bonus.
Date published: 2012-07-30
Rated

2

out of

5
by
Olan
from
Product does not preform as advertised. Contaminants still stain my skin, my skin is still so dry that it is cracking. It leaves a sticky residue feeling. The only plus side is that it smells nice.
Date published: 2014-03-11
Rated

5

out of

5
by
Jen
from
I purchased this barrier cream for the guys at our yacht mechanic shop, and they love it! Not only does a little go a long way, but we've cut our costs on disposable gloves too! At first a few were quite hesitant to give it a try, but now they're becoming more use to it after seeing how great it really does repel oil and paint. Will be purchasing again :)
Date published: 2016-07-06
Rated

5

out of

5
by
Gail
from
This works wonders for keeping hands clean. My son works for an equipment rental company, and comes home with dirty, greasy hands that just won't come clean with soap and water. Now, he uses PR 88 on his hands before he goes to work, and when he comes home, ground in dirt and grease come right off.
Date published: 2012-03-07
Rated

5

out of

5
by
Darlene
from
I bough 2 of the PR 88 hand protection cream. I gave one to my son who is an auto mechanic, and the other to my son in law who is a chef. My son loves it, says it really cleans his hands. My son in law constantly has his hands in water so I am not sure how he likes it as yet.
Date published: 2012-06-13
Rated

5

out of

5
by
Eileen
from
I bought this for my son who is a heavy goods equipment mechanic; he does not like wearing gloves and this cream gives him great protection from all the oil and grease. He did not buy it himself because he said it was too expensive; now he knows about well.ca he knows where to shop next time!
Date published: 2017-03-06