Reactine
Reactine Complete Sinus + Allergy Extended Release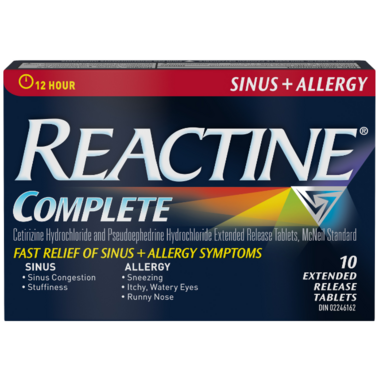 Reactine
Reactine Complete Sinus + Allergy Extended Release
Description
Reactine Complete Sinus + Allergy Extended Release provides fast allergy relief plus a decongestant for when allergies are made worse by sinus symptoms.
Relieves:
Sinus and nasal congestion
Itchy, watery eyes
Runny nose and stuffiness
Sneezing
Allergic skin itch
Hives
Dosage:
Adults and Children 12 years of age and over: 1 tablet every 12 hours.
Adults 65 years of age and over and in patients with moderate hepatic and/or renal impairment: 1 tablet daily or consult a doctor.
May be taken with or without food. Swallow whole. Do not exceed recommended Dosage. Prolonged usage as directed by doctor.
Medicinal Ingredients:

Cetirizine Hydrochloride 5mg
Psedoephedrine Hydrochloride 120 mg

Non-Medicinal Ingredients:
celluloses, lactose, magnesium stearate, polyethylene glycol, silicon dioxide, sodium carboxymethylcellulose, titanium dioxide.
Caution:
Do not use if you are taking a prescription drug for high blood pressure or take a monoamine oxidase (MAO) inhibitor (MAOI) (drugs for depression or Parkinson's disease) or for two weeks after stopping the MAOI drug
Ask a doctor or pharmacist before use if you have liver or kidney disease, are pregnant or breastfeeding, have high blood pressure, heart, or thyroid disease, diabetes, glaucoma, difculty urinating due to an enlarged
prostate, if you are elderly, if you are taking any other medication
When using this product drowsiness may occur, do not drive or operate machinery, avoid alcoholic drinks or any sedating substances, headache, sleepiness and dry mouth may occur
Stop use and ask a doctor if an allergic reaction occurs, symptoms persist, worsen or new symptoms occur, you are nervous, dizzy, or can't sleep. Keep out of reach of children. In case of overdose, call a Poison Control Centre or get medical help right away. Store at 15 to 30°C.
Should you require consultation with a pharmacist, you may
contact our Well.ca Pharmacist.
Please read the label, warnings and inserts provided by the manufacturer and consult your healthcare professional when purchasing medications or natural health products to be sure the product is right for you.
We are unable to offer Paypal as a payment option for orders containing this product.
Ingredients
Medicinal Ingredients: Cetirizine Hydrochloride 5mg Psedoephedrine Hydrochloride 120 mg Non-Medicinal Ingredients: celluloses, lactose, magnesium stearate, polyethylene glycol, silicon dioxide, sodium carboxymethylcellulose, titanium dioxide.
Shipping & Returns
Unfortunately, due to the nature of this item, we cannot accept any returns.
We are only able to ship this item to Canadian customers.
This item cannot be shipped to Quebec due to provincial pharmacy regulations.
Click here for more information