Refresh
Refresh Lubricant Eye Drops
Preservative Free 30 x 0.4 mL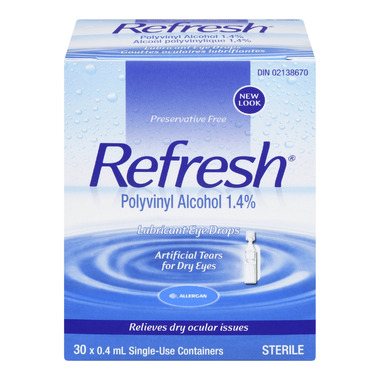 Refresh
Refresh Lubricant Eye Drops
Preservative Free
30 x 0.4 mL
---
Description
Instantly moisturize and relieve dry, irritated eyes with this preservative-free formula for sensitive eyes from Refresh. Artificial tears for dry eyes! It comes in convenient, single-use containers and is safe to use as often as needed.
Each box contains 30 Sterile Single-Use Containers x 0.4 mL per container.
Medicinal Ingredient: Polyvinyl Alcohol 1.4%

Shipping & Returns
Unfortunately, due to the nature of this item, we cannot accept any returns.
We are only able to ship this item to Canadian customers.
Click here for more information