Zuke's
Regular Z-Bone Clean Carrot Crunch 8 Pack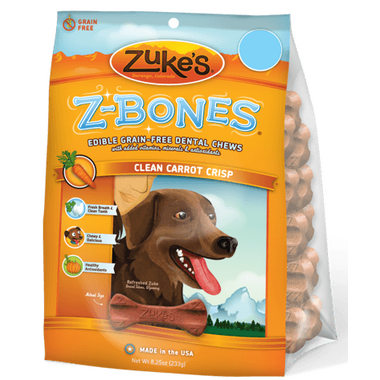 Zuke's
Regular Z-Bone Clean Carrot Crunch 8 Pack
Description
Grain Free Dental Bone for Dogs – The Natural way to Clean Teeth and Freshen "Doggy" Breath. For Dogs 25 to 60 pounds.
​Knowing toilets are a dog's water source of choice, it's no surprise their breath gets bad. So if you love your dog, but aren't quite ready to share your electric toothbrush with them, Z–Bone can help. They support fresh breath and clean teeth — naturally, without gut-clogging wheat gluten, nasty corn starch or synthetic chlorophyll.
Our potato-based chews maintain dental hygiene by scraping and polishing your dog's teeth. No more fake mints or unhealthy remedies for your furry friend. Fight doggie breath the natural way with Z-Bone and Fuel the Love.
Highly digestible, tapioca and potato are the first ingredients
Did you know good dental hygiene can help your dog live 5 years longer? Z-Bone can help!
Natural breath freshening ingredients like chlorophyll, clove, vanilla, parsley and rosemary help fight "doggy breath"
Every recipe packed with Whole Food Antioxidants
Ridged surface helps to scrape and polish your dog's teeth
100% Grain Free
Made without artificial colors, flavors or by-products
Made in the USA
Safety First
– As with any edible treat, monitor your dog while chewing. Ensure that your dog adequately chews the treat. Do not feed the treat if you question your dog's ability to adequately chew. Swallowing any item without adequately chewing may be harmful or fatal to a dog. Do not feed more than the Maximum Daily Intake.
Maximum Daily Intake
– Z-Bone is not recommended for puppies under 6 months of age or dogs weighing less than 5 lbs. Always be sure your dog has access to fresh, clean water.
Ingredients:
Potato Starch, Tapioca, Vegetable Glycerin, Carrot, Pumpkin, Alfalfa Concentrate, Cellulose Fiber, Beta Carotene, Lecithin, Natural Flavor, Parsley, Ground Clove, Rosemary Extract, Fennel Seed Powder, Vanilla Extract, Calcium Propionate, Zinc Propionate.

Guaranteed Analysis
Protein not less than 1%
Fat not less than 1%
Fiber not more than 2%
Moisture not more than 20%

Carrot, Cherry & Carpets
– Carrot Crunch and Cherry Berry Z-Bones can stain light colored carpets or other textiles. Please feed accordingly.
Shipping & Returns