Remedy
Remedy Organic Kombucha Raspberry Lemonade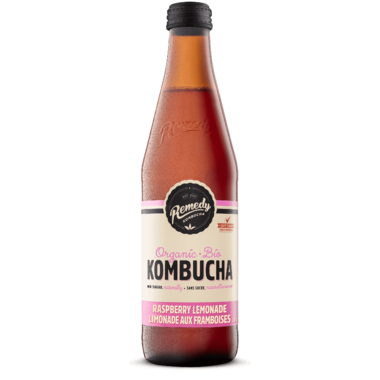 Remedy
Remedy Organic Kombucha Raspberry Lemonade
Description
Remedy started on a kitchen counter. They do things the old school way. Long aged brews. Small batches. Full of goodness. The tastiest kombucha going 'round.
Features:
Delicately brewed for 30 days
Raw, vegan and unpasteurized
Sparkling live cultured
10 Calories
I Quit Sugar Recommended
Organic
Kosher
Best served chilled
Ingredients:
Certified organic raw kombucha (pure water, wild kombucha culture organic black tea, organic green tea, organic raw sugar), organic erythritol (natural sweetener), organic hibiscus, raspberry extract (natural flavor), organic lemon, organic stevia leaf.
Highlights

Features
Delicately brewed for 30 days
Raw, vegan and unpasteurized
Sparkling live cultured
10 Calories
I Quit Sugar Recommended
Organic
Kosher
Ingredients
Certified organic raw kombucha (pure water, wild kombucha culture organic black tea, organic green tea, organic raw sugar), organic erythritol (natural sweetener), organic hibiscus, raspberry extract (natural flavor), organic lemon, organic stevia leaf
Shipping & Returns