Rexall Extra Strength Allergy Relief
10mg Cetirizine Hydrochloride
20 Antihistamine Tablets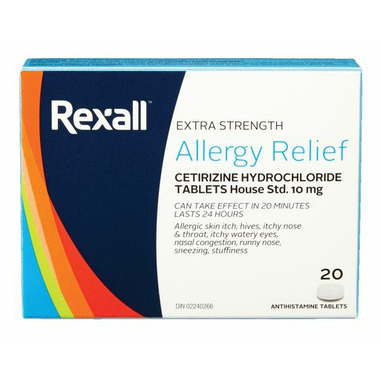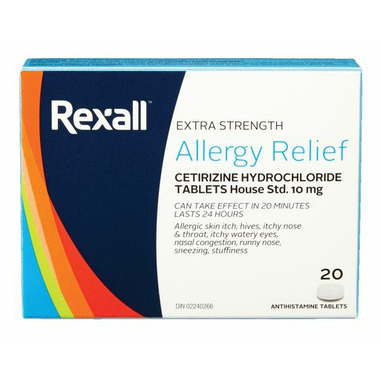 Rexall Extra Strength Allergy Relief
10mg Cetirizine Hydrochloride
20 Antihistamine Tablets
The Rexall Extra Strength Allergy Relief can take effect in 20 minutes and lasts 24 hours. Helps relieve symptoms of allergic skin itch, hives, itchy nose & throat, itchy water eyes, nasal congestion, runny nose, sneezing and stuffiness.

Ingredients: Cetirizine, Lactose monohydrate, Microcrystalline cellulose, Corn starch, Hydroxypropyl methylcellulose, Polydextrose, Magnesium stearate, Polyethylene glycol, Titanium dioxide

Dosage: Adults and children 12 years of age and over: 1 tablet every 24 hours, anytime of day. Adults 65 years of age and over: half of a tablet (5 mg) daily or consult physician. DO NOT EXCEED RECOMMENDED DOSAGE.