Rexall Melatonin Quick-Dissolve Sleeping Aid
3 mg
90 Sublingual Tablets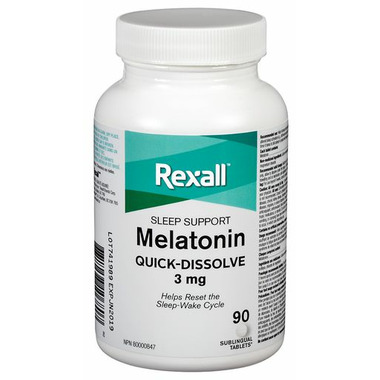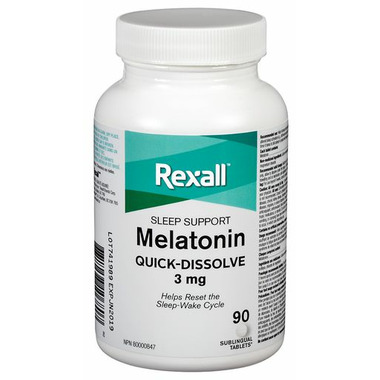 Rexall Melatonin Quick-Dissolve Sleeping Aid
3 mg
90 Sublingual Tablets
The Rexall Quick-Dissolve Melatonin helps reset the sleep-wake cycle.
Ingredients
: Melatonin, Lactose Monohydrate, Microcrystalline Cellulose, Peppermint Flavour, Croscarmellose Sodium, Magnesium Stearate

Directions for use:
Adults only. Do not drive or use machinery for 5 hours after taking melatonin. At bedtime only, allow to dissolve under the tongue, 1-3 tablets once daily or as recommended by a physician.
Jet lag: Take while travelling, and at destination until adaption to the new daily pattern. For occasional short-term use.

All uses except jet lag: For use beyond 4 weeks, consult your physician.