Rhinaris
Rhinaris Nasal Gel for Crusty Nose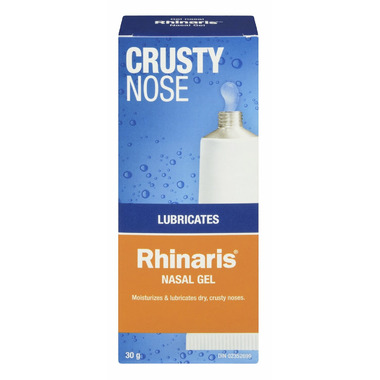 Rhinaris
Rhinaris Nasal Gel for Crusty Nose
Description
Rhinaris Nasal Gel helps moisturize and lubricate dry nasal passages caused by low humidity in homes, office buildings, hotels and airplanes. It rovides long-lasting relief.

Directions: Adults: Apply a small amount of gel into each nostril every four (4) hours or as needed. Protect from freezing.

Medicinal Ingredients: Mixture of polyethylene glycol 15% and propylene glycol 20% in a gel adjusted to pH 5.5.

Non-Medicinal Ingredients: Purified Water, Carbomer 934P, Sodium Carboxymethylcellulose, Sodium Hydroxide, Sodium Chloride, Potassium Chloride, Benzalkonium Chloride.

Precautions: For nasal use only. Keep out of reach of children.
Shipping & Returns
Unfortunately, due to the nature of this item, we cannot accept any returns.
We are only able to ship this item to Canadian customers.
Click here for more information