Ritter Sport Whole Hazelnuts Chocolate Bar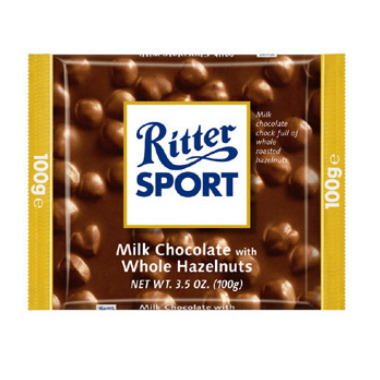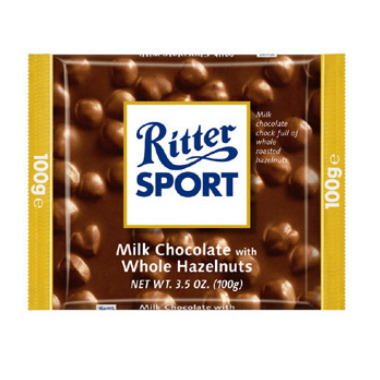 Ritter Sport Whole Hazelnuts Chocolate Bar
Ritter Sport Whole Hazelnuts is an absolute favourite in the colourful Ritter Sport range. 23% crunchy Levantine hazelnuts from Turkey and 77% of their classic milk chocolate result in 100% pure chocolate and hazelnuts.

The nutty, roasted taste of each handful of hazelnuts in every bar is excellently complemented by subtle, tangy fine cocoa from Papua New Guinea and Madagascar, as well as cocoa from West Africa.

Because only the best ingredients go into Ritter Sport chocolate, even its whole, freshly roasted hazelnuts must possess the "perfect figure". After a 2-step selection process, including hand selection, only nuts with an 11 to 13mm diameter are large enough to honour the title of "whole hazelnut". Embedding them in delicious milk chocolate ensures a satisfyingly crunchy chocolate taste experience with every bite.
Ingredients: Sugar, hazelnuts, cocoa butter, cocoa mass, cream powder, skimmed milk powder, sweet whey powder, lactose, clarified butter, emulsifying agent: lecithin (soya), natural flavourings.