Rizopia
Rizopia 100% Rice Pasta Spinach Spaghetti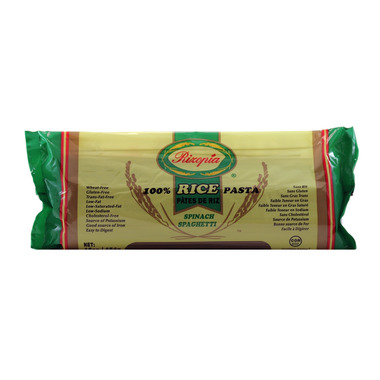 Rizopia
Rizopia 100% Rice Pasta Spinach Spaghetti
Description
Spaghetti - This is long, rounded, average thickness pasta. The best-known and well-loved pasta of all. Spaghetti is the perfect choice for nearly any sauce. A classic dish is spaghetti and meatballs, however let your imaginations show you what your favorite becomes.

Rizopia provides the safest, tastiest, high quality gluten-free rice pasta line in the industry, all of which are made with great respects to the taste and the tradition of the 'Al Dente' Italian tradition.

Wheat free
Gluten free

Low fat
Trans fat free
Low in saturated fat
Low sodium

Cholesterol free
Source of Potassium

Good source of Iron
Nut Free
Easy to digest

Kosher certified
Made in Canada

Ingredients: Brown rice, spinach powder and water.
Highlights

Shipping & Returns