Robitussin
Robitussin Mucus & Phlegm Extra Strength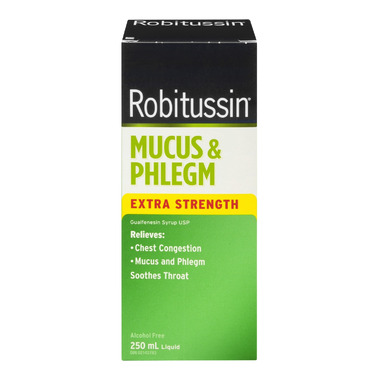 Robitussin
Robitussin Mucus & Phlegm Extra Strength
Description
An extra strength formula designed to provide fast relief! This alcohol-free syrup loosens tough mucus and phlegm buildup, eases chest congestion, and soothes a sore throat.
Relieves:
Chest Congestion
Mucus & Phlegm
Soothes Throat
Dosage:
Adults (over 12 years) take 2 teaspoons (10 mL) every 6-8 hours or as directed by a doctor. Maximum 4 doses per day. NOT FOR USE by children under 12 years.
Medicinal Ingredients:
Each teaspoon (5 mL) contains Guaifenesin (200 mg)

Non-medicinal Ingredients:
Citric acid, corn syrup, FD&C Red No. 40, flavour, glycerin, polyethylene glycol, propylene glycol, sodium benzoate, sodium carboxymethylcellulose, sodium saccharin, sorbitol and water.
Caution:
Keep out of reach of children. This package contains enough medication to seriously harm a child. Do not exceed the maximum dosage. Do not use if you have an allergy to any of the listed ingredients. Stop use and talk to a doctor if symptoms do not improve in 7 days or if high fever, rash or persistent headache is present, as these may be signs of a serious condition. Talk to a healthcare professional before using this product if you suffer from a persistent/chronic cough (as occurs with smoking), shortness of breath or chronic lung disease (e.g. asthma or emphysema), or if you are pregnant or nursing or under a doctor's care. DO NOT take with any other cough and cold medications, unless recommended by a healthcare professional, as harm may occur. In case of overdose: Stop use and contact a doctor or poison control centre immediately, even if there are no symptoms.
Shipping & Returns
Unfortunately, due to the nature of this item, we cannot accept any returns.
We are only able to ship this item to Canadian customers.
Click here for more information