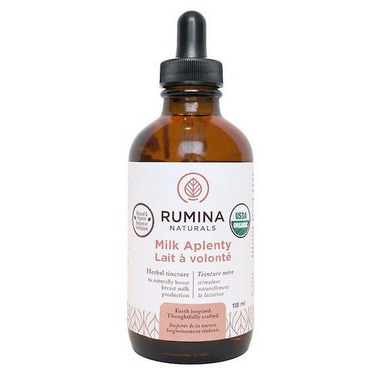 118 mL
Rumina Naturals Milk Aplenty
is rated out of
5
by
26
.
---
Description
A proprietary blend of nature's most potent herbs to safely boost breast milk production.
Dosage: Take 2ml three times per day, Shake well before use, Can be taken with 1-2 oz of juice or water
Warning: Hypersensitivity, such as allergy, has been known to occur; in which case, discontinue use.
Highlights

Features
USDA Certified Organic
Nutrient dense, traditional tincture to increase production of breast milk
Supportive of the female endocrine system
Fully therapeutic doses of all herbs
Consult a healthcare practitioner prior to use if you are pregnant

Ingredients
Ingredients: Shatavari (Asparagus racemosus) Root extract* (1:1) 1 ml/1 g, Moringa (Moringa oleifera) Leaf extract* (1:2) 0.5ml/250 mg, Vervain (Verbena officinalis) Herb extract* (1:2) 0.3 ml/150mg, Milk thistle (Silybum marianum) Seed(s) extract* (1:2) 0.2 ml/100 mg. *Certified Organic Ingredient Non-medicinal ingredients: Alcohol (pure grain ethyl)*, Water.
Shipping & Returns
Rated

5

out of

5
by
Kymama
from
This really works!
I am a mom of twins and wasn't producing enough milk. My lactation consultant had me start this supplement when the twins were 2 weeks old. I initially supplemented with formula for a few weeks. Now the twins are 4.5 months old and I am fortunate to exclusively pump breastmilk for both babies (since about 6 weeks old). I pump about 50 oz a day on average. My consultant said you need a very slow weening process off the supplement, so be wary of that if it is not prescribed to you.
Date published: 2020-06-17
Rated

1

out of

5
by
Bre
from
Made Supply Worse
When I purchased it I could not find a negative review about its success and I was excited to increase my supply. But for me it did not work! It made my milk less concentrated and a funny shade. It also decreased my remaining supply by about half. Once I stopped taking it my milk returned to the normal colour and thickness and increased slightly once more.
Date published: 2021-04-09
Rated

1

out of

5
by
Bekahmaye
from
Supply drop
I have been trying this product for 5 days now as directed on the bottle. I have noticed a drop in my supply unfortunately. I was so excited to get this product but unfortunately it has not helped at all. I'm unsure if it is the reason for the supply dropping...
Date published: 2021-04-12
Rated

5

out of

5
by
MamaBearJr
from
It truly works!
The first day I tried it, I was able to pump out at least 120ml on each side. Backstory - my daughter was 4 months and she is breastfed 90% of the time and when I can, I pump and feed her from the bottle so she doesn't forget it. I could barely pump 30ml with both sides. It was pathetic. Now I have a stash in the fridge and freezer. The taste is bad but a small price to pay to have supply for my growing daughter.
Date published: 2020-09-14
Rated

5

out of

5
by
Erika
from
Helped boost my supply! Just to touch on other ppls reviews. It tastes awful because the company didn't want to add sugar or additives. Just the proper ingredients. I just take mine with a bit of orange juice. No problem :)
Date published: 2019-06-05
Rated

5

out of

5
by
Gen
from
It works very well
I needed to increase my milk supply to help my baby with her tongue and lip ties, and this helped a lot! I tried other supplements before but this one was the best by far. I really recommend trying it!
Date published: 2020-09-14
Rated

3

out of

5
by
Nicole
from
I wanted to try something without fenugreek, hard to tell if it increased my supply or not, but one things for sure it tastes horrible!! Absolutely awful tasting, hope they make a capsule in the future
Date published: 2019-05-25
Rated

5

out of

5
by
Emma
from
This stuff saved my breastfeeding journey! I tried a few other supplements hoping to produce enough milk to exclusively BF my twins with no luck. My lactation consultant suggested I try this and it worked really quickly to drastically increase my supply so that I'm now producing even slightly more than what my twins need. I would highly recommend it. I take it in a shot glass with orange juice and find that masks the taste well.
Date published: 2019-08-12