Salba Smart Dark Chocolate Covered Chia Seeds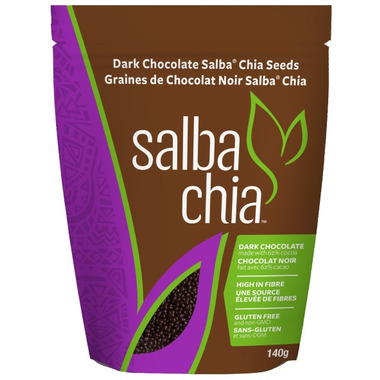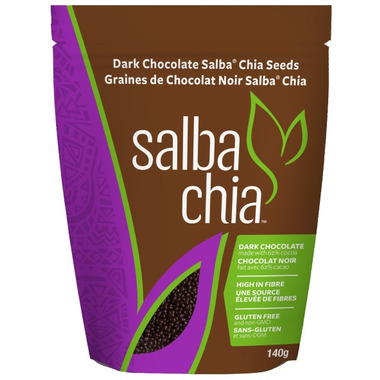 Salba Smart Dark Chocolate Covered Chia Seeds
Dark Chocolate covered Salba Chia is a power-packed way to add dense chia seed nutrition to your diet. Available in a bag, Salba Chia makes it easy for you to add fiber, calcium, iron and dark chocolate to your favorite recipes. Each serving also contains 2250mg of Omega-3 (ALA). On top of all this, Dark Chocolate Covered Salba Chia is a decadent companion for baking, ice-cream, yogurt, oatmeal or straight from the bag.
Ingredients:
Chocolate Liquor, Salba® Chia seeds, Sugar, Cocoa Butter, Soy Lecithin, Vanilla, Tapioca Syrup, Water, Tapioca Dextrin, Coconut Oil, Gum Arabic.

Ingrédients:
Liqueur de chocolat, Graines de chia Salba®, Sucre, Beurre de cacao, Lécithine de soja, Vanille, Sirop de tapioca, Eau, Dextrine de tapioca, Huile de cacao, Gomme arabique.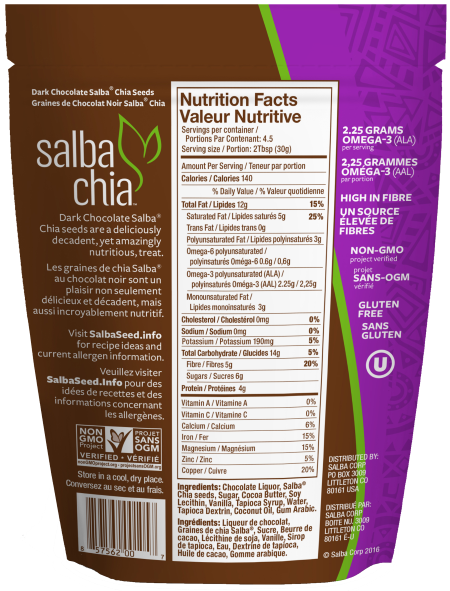 Dawn:
about a week ago
At the same time I started eating this I got a swollen gland. I don't know if it was because one of the tiny seeds went into my nasal passage or in my gums or what but I'm hesitant to give it another try. They taste great but might not be the right way for me to incorporate chia seeds into my diet.
Page
1