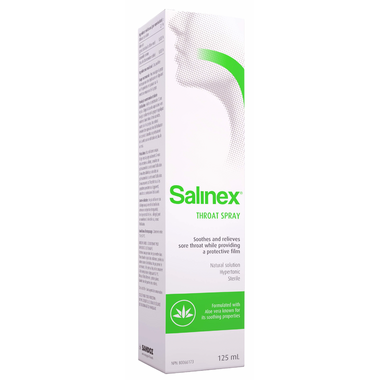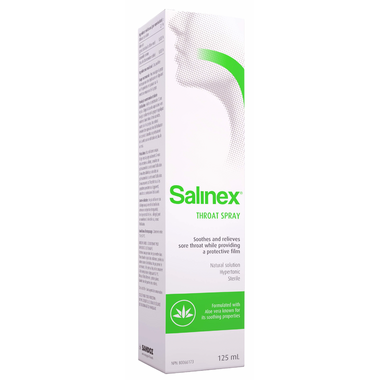 Formulated to both remedy and protect, Salinex® Throat spray soothes and relieves your sore throat while providing a protective film. Salinex® Throat spray contains 3 medicinal ingredients, each with distinct properties to get you back at your best. Sodium chloride to provide your body with antioxidants; aloe vera to soothe the sore and redness; and chamomile to calm your throat muscles and make you feel at peace.

Instructions for Use: Adults and children over 12 years old: Direct the spray nozzle at the region of inflammation in the throat and apply orally one spray for 2-3 seconds 4-6 times a day. Children should be supervised when using this product. Consult a healthcare practitioner for use beyond 1 month.

Ingredients:

Medicinal ingredients (per spray): sodium chloride (2.1%), aloe vera (0.025%), roman chamomile (0.025%).

Non-medicinal ingredient: purified water

WARNING: Precautions: For single user only. To be directed at throat region only. If you are pregnant or breastfeeding, consult a healthcare practitioner prior to use. If you have diabetes, consult a healthcare practitioner prior to use. Should you experience discomfort, or if symptoms persist or worsen, consult a healthcare practitioner.

Do not use if you are allergic to plants of the
Asteraceae Compositae/Daisy family. Hypersensitivity (e.g., allergy) has
been known to occur; in which case, discontinue use. Sealed for your protection. Do not use if tamper-evident seal is broken or missing.