Salus Haus Magnesium Liquid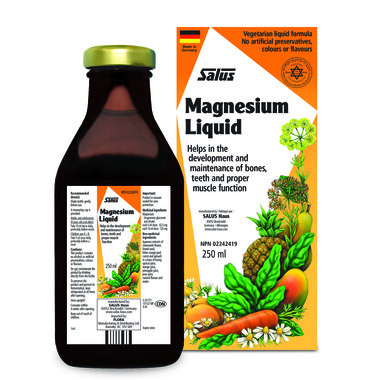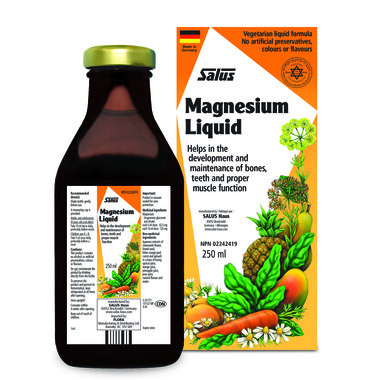 Salus Haus Magnesium Liquid
Salus Magnesium Liquid supports a healthy circulatory system and helps relax the arteries and muscles. It helps the body to metabolize carbohydrates, proteins, and fat for the maintenance of good health.It also helps in the development and maintenance of bones, teeth and proper muscle function.
Features:
Beneficial for those under stress
Magnesium is essential for proper calcium absorption and aids in the development and maintenance of strong bones and teeth
Helps with the proper functioning of the colon and in maintaining bowel regularity
Assists the body to metabolize carbohydrates, proteins and fat
Also helps adolescents age 9 to13 prevent magnesium deficiency
Adults & adolescents 9yrs +: 10ml 2 x daily before meals.
Children 4-8 yrs: 5ml once daily before meal
Medicinal ingredients:
per 5 ml dose/ 10 ml dose
Magnesium 62.5 mg/ 125 mg (gluconate and citrate)
Non-medicinal ingredients:
Aqueous extract of chamomile flowers, fennel seed, bitter orange peel, carrot and spinach in a base of honey, apricot juice, mango juice, pineapple juice, pear juice, natural flavour and water.
This product contains no alcohol; or artificial preservatives, colours or flavours. Store unopened bottle in a cool and dry place (15 – 25 °C).Consume within 4 weeks after opening. Keep out of the reach of children.
Vegetarian, Gluten Free, Yeast Free, Dairy Free, Kosher



Justina:
about a month ago
I bought this to help with muscle cramps and as long as I remember to take it, it seems quite effective. The taste and texture are easily palatable. I deducted one star only because the price is a bit high for the quantity. If you take the recommended amount for adults the bottle would last maybe a month.
Page
1