Salus Haus Red Beet Crystals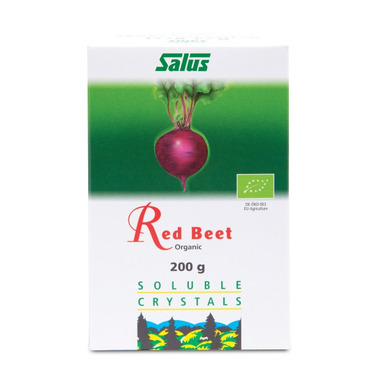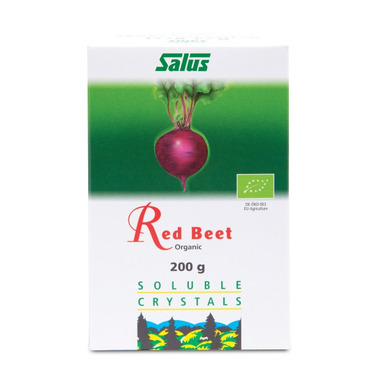 Salus Haus Red Beet Crystals
Salus® Red Beet Crystals are produced with the utmost care. This naturally sweet tasting, instantly soluble product is a pure concentrate, carefully obtained from the juice of freshly pressed certified organic beets. These certified organic Red Beet Crystals contain 100% natural, active constituents such as iron and vitamin C. Salus® Red Beet Crystals blend well with fruit smoothies, shakes, fruit juices, milk products, soup, muesli, cereals and other dishes. Salus® certified organic Red Beet Crystals are a convenient alternative for those with hectic schedules. Simply dilute the crystals in water or your favourite fruit or vegetable juice and serve.

Features:
Fast, convenient and great tasting
Fresh pressed within 2-3 hours of harvest
Produced from freshly harvested certified organic beets
Red Beet Crystals contain all of the active constituents of the plant, unchanged in their natural form
Each 200 gram jar contains the equivalent of 2.5 kg of fresh pressed organic beets
Free of additives and preservative
Unless otherwise indicated, take 1 heaping tablespoon
Ingredients
: 100% organic pure red beet crystals.
Important: After opening, store in a dry place. Replace the cap tightly after use as Red Beet Crystals readily absorb moisture when exposed to air. Although moisture may cause "caking" of the crystals, the product's integrity will not be compromised.

Vegetarian, Vegan, Gluten Free, Yeast Free, Dairy Free, Certified Organic






Benoit:
more than a year ago
I use this product since 2 weeks now and so far no change in my blood pressure. The taste is not that great. The main reason why I buy this product was to increase my level of nitric oxyde in the blood who cause vasodilatation of the blood vessels and lower your blood pressure. Maybe it take more time to work or a bigger dose? I'm already on a high blood pressure med and wanted to find a natural way to decrease it without needed to add another pill or increase my dose. As usual, well.ca did a great job for their service and fast shipping.
Page
1