Sandoz Glycerin Suppositories Adults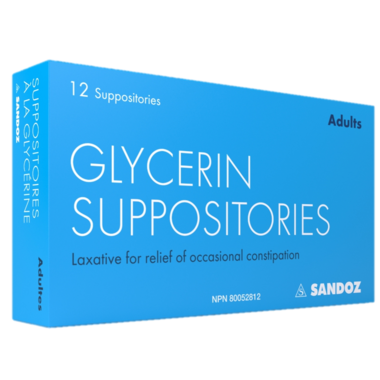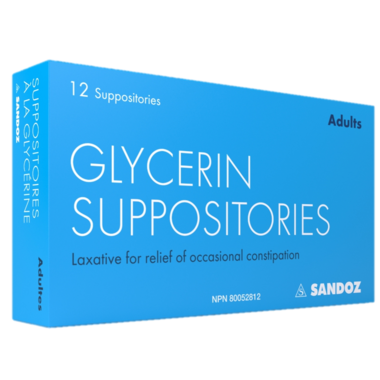 Sandoz Glycerin Suppositories Adults
Glycerin Suppositories Adults is a laxative for relief of occasional constipation.

How to Use: Adults and children 6 years and older: 1 suppository once daily. Do not take within 2 hours of another medicine as the desired effect of the other medicine may be reduced. Do not used for more than 7 days.

Instruction for use: Remove suppository from its aluminum foil. Gently insert into the rectum. Allow 15 minutes to 1 hour to produce the bowel movement.

Medicinal Ingredient: (per dose unit) Glycerin (1,2,3- Propanetriol, Glycerol) 2.34 g (90 percent).

Nonmedicinal Ingredient: Sodium stearate.

Warnings: For rectal use only. Consult a healthcare practitioner promptly in case of bleeding. Consult a healthcare practitioner if condition persists or worsens. Discontinue use and consult a healthcare practitioner if rectal discomfort or a burning sensations occurs. Contraindications: Do not use in the presence of abdominal pain, nausea, fever, vomiting or rectal irritation.