Sapadilla
Sapadilla Sweet Lavender + Lime Countertop Cleanser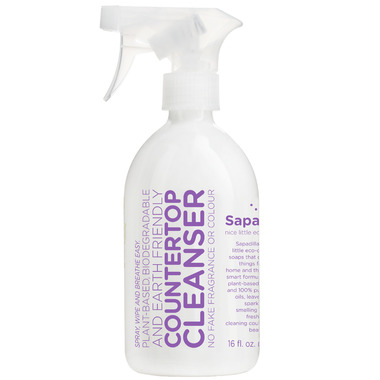 Sapadilla
Sapadilla Sweet Lavender + Lime Countertop Cleanser
475 mL
Sapadilla Sweet Lavender + Lime Countertop Cleanser
is rated out of
5
by
15
.
---
Description
Beautiful, relaxing lavender meets the lively tang of lime. Add in a little sweet orange and a subtle whisper of pine, and you've never felt happier cleaning. This aroma is irresistible to lavender lovers - and those surprised by the fresh new result when lavender and lime unite.

This handy-dandy cleanser works great for quick clean-ups all around your home, but is a must-have in the kitchen. It's perfect for cleaning sticky countertops, greasy grimy stovetops, and other kitchen surfaces. Just spray, wipe and breathe deeply.

Safe for use on all non-porous surfaces, such as sealed synthetic or natural stone (like granite and marble), tile, laminate, linoleum, finished wood, kitchen appliances, bathroom fixtures, etc. For maximum sanitation, let sit a few minutes before wiping. If you're unsure about a surface, test in an inconspicuous area first. For streak-free results, wipe with a damp cloth.

Ingredients: Purified Water, Coco Glucoside, Ethyl Alcohol, Lactic Acid, Essential Oils of Lavender, Lavandin, Lime, Sweet Orange and Pine, Potassium Sorbate, Sodium Benzoate.
Highlights

Shipping & Returns
Rated

2

out of

5
by
Stormy
from
More lime than lavender
I'm a big fan of the rosemary and mint scent and have been using it for years. I thought I'd try the lavender and lime and was disappointed with the overwhelming scent of lime. No hint of lavender in this bottle.
Date published: 2020-11-26
Rated

5

out of

5
by
Lovemypets
from
My all time favourite cleaner!
I've been using this product for over a year and I LOVE IT! I use it in the kitchen and also in the bathroom, I was always struggling with soap scum and hard water buildup being very visible on my shower walls and this cleaner works amazing! I'll just spray it on when I get out of the shower and leave it and it makes everything sparkle! Plus the scent is amazing! I also find it really great for kitchen counter/sink/stovetop/anything!
Date published: 2020-05-13
Rated

5

out of

5
by
JenMet
from
This smells divine!
I bought this countertop cleanser and was slightly nervous because of the "non-Pourous" indication. It ended up working amazing on my countertops. The smell is honestly incredible as well so I would highly suggest it to anyone hesitating!
Date published: 2020-05-01
Rated

5

out of

5
by
Megs
from
Refills with All Purpose!
Love all of their cleansers - just wanted to leave a review to let people know to buy the all purpose cleanser if they want to refill. Only takes about a tablespoon or so plus water and voila! Basically the same!
Date published: 2020-04-04
Rated

5

out of

5
by
Mother Teresa
from
In love !
I cant get enough of this effective and great smelling cleaning product. Gives you a little aromatherapy boost with each use. Cuts through mess / grease with ease. This order will be a repeat!
Date published: 2020-07-18
Rated

2

out of

5
by
Jae
from
Disappointing
Thought I would give this a try after reading the reviews. Smells decent but it leaves my quartz countertops super streaky. I expected more considering the steep price and smaller bottle size.
Date published: 2020-06-10
Rated

3

out of

5
by
Tina
from
This product works well and is in a good quality spray bottle. However, my husband hates the scent. Since it is also my least favourite, I will just stick with the other two from now on.
Date published: 2021-02-18
Rated

5

out of

5
by
Debbie
from
Great scent
I live in the United States but it is hard to find here so I have been ordering this from Canada. The scent is great and it lingers on the counter after using it. The cleaner works well.
Date published: 2020-10-23