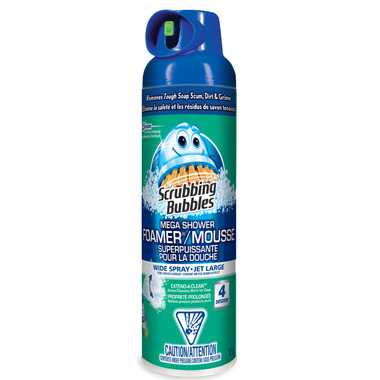 567 g
Scrubbing Bubbles Mega Shower Foamer Aerosol Rainshower Scent
is rated out of
5
by
14
.
---
Description
Scrubbing Bubbles® Mega Shower Foamer is a foaming shower cleaner that makes it easier than ever to clean your shower. This handy product is the only wide-spray aerosol in the marketplace, with a grime-busting formula that penetrates to dissolve and remove soap scum.

The wide spray powers onto the surfaces in your shower and clings for close to 4 minutes. The formula goes to work on contact, quickly cleaning soap scum and tough stains, so scrubbing becomes virtually obsolete. And its active cleaners keep your bathroom clean for up to four days. Just rinse and wipe away to leave almost any bathroom surface cleaner.
Shipping & Returns
Rated

4

out of

5
by
Alison
from
Love this product! I spray a film over my entire shower and the countertop and sink, wait a couple of minutes, wipe down the sink and counter, then hose off the shower with hot water. Smell isn't too strong. Everything is clean and shiny, and doesn't build up again for a few days. I only wish there was more in a can, because I think I was able to clean my bathroom 4 times from a can. Still, I think it's great value for $1.25 a cleaning, and I do it every 1-2 weeks. Love it!
Date published: 2012-08-31
Rated

5

out of

5
by
Christine
from
Before finding this product, I used to scrub the tub for half an hour every week to get rid of the green stuff that stuck to it. Now, all I do is spray, walk away for a few minutes, and the green stuff easily wipes off. It also doesn't come back as fast. What used to be a 30 minute job once a week is now a 10 minute job every 2 weeks . . . This product is amazing!
Date published: 2012-03-07
Rated

4

out of

5
by
Juliette
from
I don't know if it is because I have a fiberglass tub and it has lost its shine for awhile now, I don't find much difference in this cleaning product than others. I also have to turn on the fan because of the smell. I will continue to buy it but won't use it all the time.
Date published: 2012-09-30
Rated

5

out of

5
by
Jenny
from
This foaming spray actually does what it claims. It makes cleaning my shower walls much easier, and they stay clean longer. Definitely worth the price for me.
Date published: 2012-03-22
Rated

4

out of

5
by
Michelle
from
Did a great job of breaking up built-up mineral on my tiles. I agree with the others who have complained that there is not very much product in the can.
Date published: 2012-10-15
Rated

5

out of

5
by
Pascale
from
Ce produit est incroyable. Il agit rapidement et il n'est presque pas nécessaire de frotter.
Date published: 2011-05-31
Rated

5

out of

5
by
karen
from
My favourite cleaner - makes cleaning the shower easy! Try it - you won't be disappointed.
Date published: 2011-11-08
Rated

1

out of

5
by
ed
from
This product was mediocre ! You cant beat good old elbow grease and a little abrasive !
Date published: 2011-03-08