Sensodyne Deep Clean Daily Toothpaste for Sensitive Teeth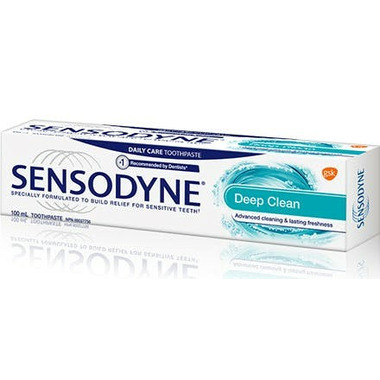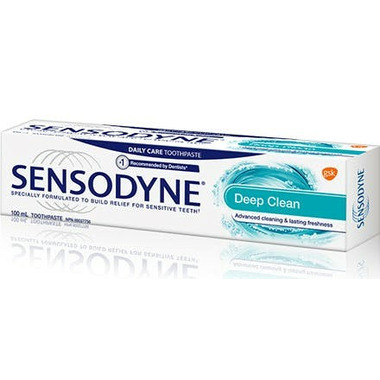 Sensodyne Deep Clean Daily Toothpaste for Sensitive Teeth
Sensodyne Deep Clean Daily Toothpaste for Sensitive Teeth is clinically proven to build on-going protection over time for sensitive teeth, working 24/7 to help relieve sensitivity pain. Thanks to its Foam Boost technology, it helps deliver advanced cleaning, leaving a lasting sensation of freshness.
Features:
Sensitivity relief
Fights cavities
Advanced cleaning
Long lasting freshness
Foam boost technology
Medicinal ingredients:
Potassium nitrate 5% w/w, sodium fluoride 0.254% w/w (fluoride 0.115% w/w).
Non-medicinal ingredients: (alpha) cocamidopropyl betaine, FD&C blue #1, flavour, glycerin, hydrated silica, PEG-8, silica, sodium hydroxide, sodium lauryl sulphate, sodium saccharin, sodium tripolyphosphate, sorbitol, water, xanthan gum.
Warning:
Keep out of reach of children. Sensitive teeth may indicate an underlying problem that needs prompt care. If symptoms persist or worsen, see your healthcare practitioner. Do not use if allergic to any of the ingredients. Rare symptoms of an allergic reaction may include swelling of the mouth or face. If this occurs, stop use and talk to your healthcare practitioner.