Sergeant's PreTect Squeeze-On Flea, Tick & Mosquito Control
3 x 1.5 mL Applicators For Dogs Up to 15 kg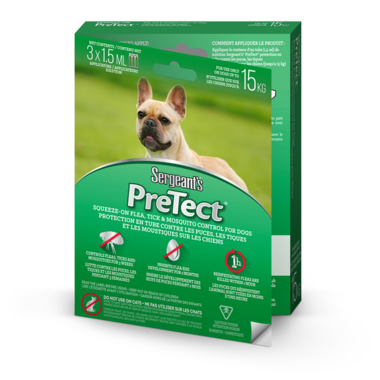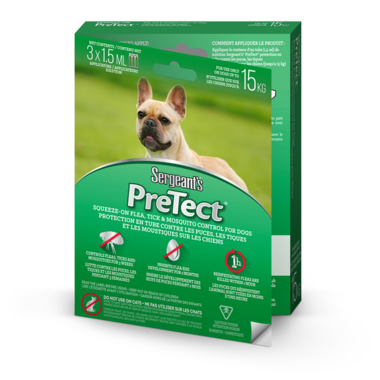 Sergeant's PreTect Squeeze-On Flea, Tick & Mosquito Control
3 x 1.5 mL Applicators For Dogs Up to 15 kg
Sergeant's PreTect Squeeze-On Flea, Tick and Mosquito Control For Dogs Up To 15 kg
.
Sergeant's Squeeze on for dogs kills fleas, ticks, mosquitoes, flea eggs and flea larvae fast. Controls flea reinfestation by preventing flea eggs and larvae from turning into biting adult fleas. Contains Bitrex, a bittering agent, to reduce chance of ingestion.
Controls fleas, ticks and mosquitoes for 3 weeks
Inhibits flea egg development for 2 months
Reinfestating fleas are killed within 1 hour
With Nylar insect growth regulator
Squeeze On
Contains: 3 Applicators x 1.5 mL
Active Ingredients: Permethrin 45% Nylar® Pyriproxyfen 1%

For use only on dogs.